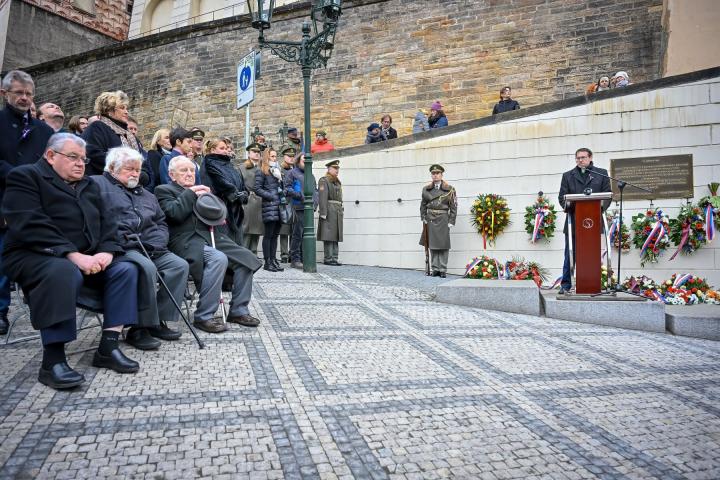 75 years ago, on 25 February 1948, students marched from the CTU building on Charles Square to the Castle to support the democratic President Edvard Beneš.
The march was brutally scattered by communist gunmen in Nerudova Street. Both sites are commemorated by memorial plaques, between which a parade of senators, academics, students and others passed on Saturday. At several stops (e.g. at the memorial to the victims of the communist regime at Újezd in Prague), the parade heard historical comments by Martin Špolc, chairman of PAK 48. After a short visit to the Senate, the participants of the parade went to Nerudova Street, where a commemorative act was held, organized by the Senate of the Parliament of the Czech Republic, the PAK 48 initiative and Mene Tekel.
Speakers included Senate President Miloš Vystrčil, former Senate President and initiator of the memorial plaque Petr Pithart, Antonín Kyncl, the last participant in the 1948 march, and Cardinal Dominik Duka. The names of the marchers and lifelong freedom fighters Josef Lesák and Růžena Vacková were recalled.
Vice-rector Radek Holý laid the wreath and delivered a speech on behalf of the CTU:
"Ladies and gentlemen,
It is 75 years since students took the lead in civil society in the struggle for freedom and democracy. It is 75 years since their efforts were opposed by the communist regime, which at that time seized power over our country and our people.
This was not the first or last time that students have shown themselves to be a driving force for democratic thinking. It was not the first time that the young generation was not afraid to make its opinion known, even at the cost of repression. Many of the students were arrested, even more were expelled from schools and were not allowed to continue their studies. It was one of the first examples of how the incoming regime would treat free-thinking people.
Let us not forget the determination of the young generation to stand up for their values, ideals and their own future. Even after 75 years, at a time when our country is free and democratic again, it is important not to take these things for granted, because they are far from being granted everywhere. And, unfortunately, we don't have venture far from our borders to look for examples.
Let us therefore support young scientists, philosophers, engineers, masters and doctors, because they will probably be the first to resist efforts to limit and suppress freedom and democracy.
Thank you for your attention."
Photo documentation from all locations can be found here