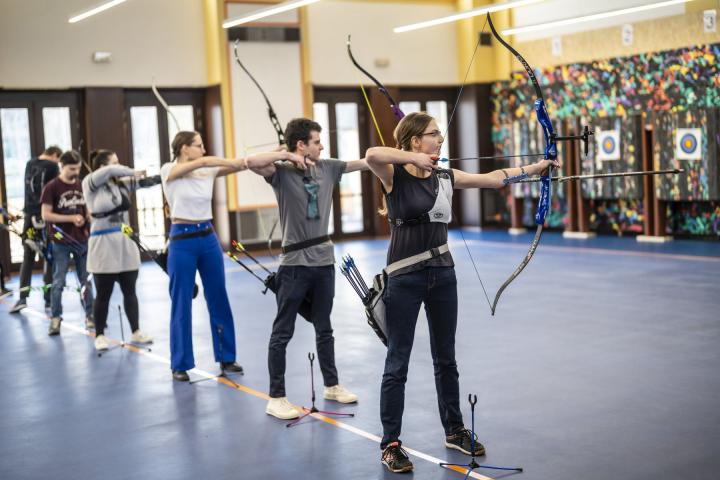 CTU in Prague has now opened a new competition-standard archery range in the Podolí dormitory area. Rector Vojtěch Petráček cut the ceremonial ribbon in the presence of Jiří Drnek, director of the Institute for Physical Education and Sport, Michal Vodička, director of CTU Service Facilities Administration, and other guests.
The indoor archery range is another new sports facility that CTU offers for its students. At the opening of the range, which stands on the site of the former Podolí dormitory canteen, archers from CTU exhibited their skills. They showed that there are good reasons to encourage archery, and to support the participation of our sportsmen and sportswomen in international competitions. Rector Vojtěch Petráček, who himself has done some serious archery, took a bow and arrow. At the  present time, the archery range is open only for students  of CTU (do not forget to sign up in the KOS system if you want to try this sport!). However, it is possible that it will be open to the public in the future. Given the limited number of indoor archery ranges in Prague, this would certainly be a welcome step.
For  more photos of the opening ceremony of the indoor archery range at Na Lysině 12, Praha 4, click here.