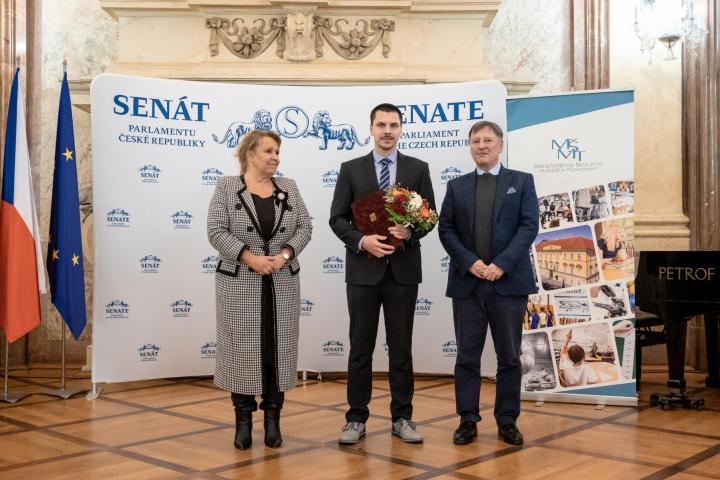 Samuel Lukeš, a doctoral student at the Department of Physics at Faculty of Nuclear Sciences and Physical Engineering, received the Minister of Education's Award for Outstanding Students and Graduates in the Study Programme and for Outstanding Student Achievements. He received the award at a ceremony at the Senate building on Monday, December 12, 2022.
This year, eight students received the Minister of Education, Youth and Sports Award for outstanding students and graduates of the study programme and for outstanding achievements of students directly from the hands of Minister Vladimír Baláš, while another ten awards were given to teachers and scientists at universities. An overview of all the awardees is available on the website of the Ministry of Education, Youth and Sports. The Ministry has been awarding students since 2014. It can be awarded to a student or a graduate of a bachelor's, master's or doctoral study programme for outstanding achievements in studies or in scientific, research, development, artistic or other creative activities related to studies. The award is also given for an exceptional act of civic bravery, responsibility or dedication.
Samuel Lukeš won the prize in the masters programme, where he demonstrated an excellent ability to work independently on many related topics ranging from plasma physics, heat conduction, material properties, power aspects and 3D engineering drawings and challenging simulations. The student's master thesis on Rapidly Stirred Divertor Suppressing Thermal Pulses in Tokamaks discusses the Tokamak as the most promising concept for a thermonuclear reactor that will be used to produce clean, inexhaustible and safe (electrical) energy. The student proposed the design of three manipulators for the new Czech tokamak COMPASS-Upgrade.