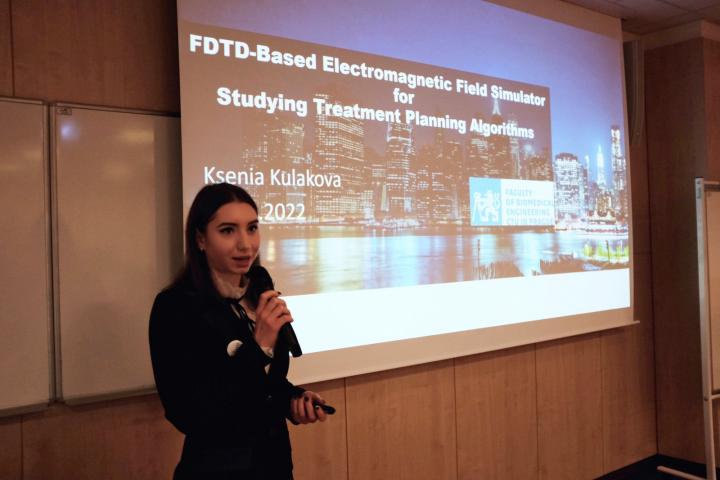 Bc. Ksenia Kulakova, a 1st year student of the English Biomedical Engineering master´s programme at CTU Faculty of Biomedical Engineering, placed second in the final of the SHE Award competition, held in Brno on 24 November 2022, for the best bachelor thesis of female graduates of technical disciplines! This nominated her for the WE Local conference in Barcelona, where she will present her current research topic to an audience of academics and industry representatives.
In her bachelor thesis titled "FDTD-Based Electromagnetic Field Simulator for Studying Treatment Planning Algorithms" she focused on the topic of treatment planning for microwave regional hyperthermia. In order to contribute to research in this field, she developed and validated a custom numerical electromagnetic field simulator based on the finite difference method in the time domain, which is able to calculate the electromagnetic field distribution in an anatomically and dielectrically realistic patient model during therapy. Subsequently, the calculations were used to study the effectiveness of available treatment planning algorithms. In the future, the simulator core may form an important part of the hyperthermia control software.
Although the SHE Award competition was open to female graduates of all technical disciplines, our faculty had two representetives in the finals. In addition to Bc. Ksenia Kulakova, Bc. Michaela Široká also got in to the final with her bachelor's thesis "Heterogeneous phantom of human pelvic region for testing of microwave hyperthermia system".
Congratulations to the students and thank you for the excellent representation of our faculty!
More info about the competion here.