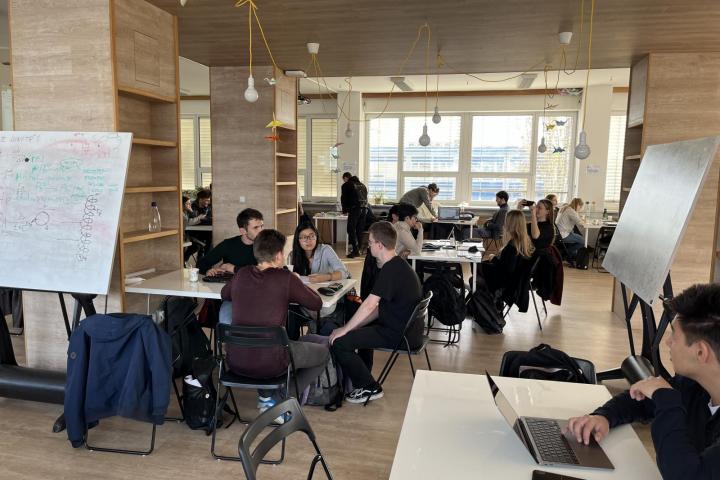 The second edition of the international EuroTeQ Collider competition was launched on Thursday 3 November. In it, students from the individual universities of the EuroTeQ association (Technical University of Munich, Technical University of Denmark, Technical University of Eindhoven, École Polytechnique, Tallinn University of Technology and CTU in Prague) tackle the "Leave No Waste Behind" challenge. The topics themselves are proposed to the students by the alliance's industrial partners.
A total of 45 students from CTU formed 10 interfaculty competition teams. The largest number of students (13) came from the Faculty of Architecture and the same number from the Faculty of Information Technology. Six students represent the Faculty of Nuclear Sciences and Physical Engineering, three students from the Faculty of Biomedical Engineering and the Faculty of Mechanical Engineering, two from the Faculty of Electrical Engineering and one representative each from the Faculty of Civil Engineering and the Masaryk Institute of Advanced Studies.
In this year's round of the competition, students will solve the following topics:
   Rethinking Waste - Ocean Bound Plastics
   Waste in a product: New Life for Ocean Bound Plastics
   Optimizing Energy Production in Gas Pressure Reduction Plants
   Gas leak detection control
   Achievable charging infrastructure
The three best teams will be selected to present their visions at the international competition EuroTeQaThon on 14 November. The competition will take place at TU Munich from 23 to 25 November
The 3 winning teams of the EuroTeQaThon will present their results in Brussels on 19-20 January 2023.
Details on the assignment of each topic are available here.
Details on each topic are available here.