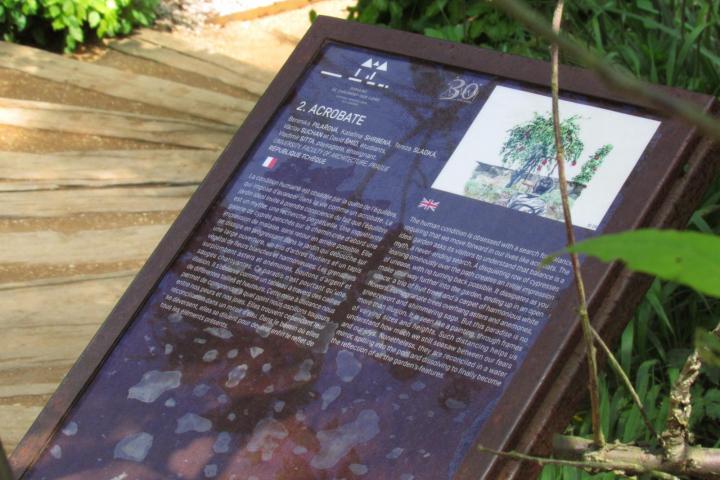 The cypress garden called Acrobat, designed by students from the Faculty of Architecture of the Czech Technical University, is one of 24 projects that are being presented at the largest garden festival in Europe this year. The gardens will be on display in Chaumont-on-the-Loire until November.
The festival in the gardens of a chateau on the Loire has been a place where the professional and general public from all over the world have been coming for 30 years to admire the art of landscape and garden architects and to learn about new materials, approaches and technologies. Students from the Faculty of Architecture of the Czech Technical University regularly participate in the festival, last year they received the Jury Prize for their installation.
The festival's assignment for this year was an ideal garden, aesthetic and pleasing to the eye, but at the same time useful, ecological, innovative and low on water and energy consumption. "For my team, the theme of perfection and the ideal does not lie in harmonious compositions, but we try to mirror the natural world around us. We perceive perfection as an ancient cycle of seeking balance that is constantly ongoing, and we are all part of it," explains David Šmíd, one of the authors of the Akrobat garden concept.
Visitors gradually pass through two parts of the garden that are in opposition to each other. They enter a rocky desert with leaning cypress trees that gradually become more and more alive and bring up an environment of paradise with a white floral carpet. The paradisie-like atmosphere is illustrated by the gurgling of the water element, which also symbolizes the never-ending process of the search for balance.
The team of the Czech installation consists of Berenika Pilařová, Kateřina Shrbená, Tereza Sladká, Václav Suchan and David Šmíd. Under the guidance of Vladimír Sitta from the Institute of Landscape Architecture at Faculty of Architecture, , they spent two weeks on the installation. "The first week was spent on landscaping, weighing stone rubble and cultivating the soil. The second week we planted fifty cypress trees, installed an anchoring system, planted pomegranate trees and a mixture of perennials, annuals and bulbs. We plugged in a water feature, erected frames, anchored steel pathway edging and mulched the flower beds," says Katerina Shrbena, explaining the creation process.
According to the students, the preparation in France was demanding in terms of coordination, as most of the authors' objects were realized in the Czech Republic and transported to the site. Due to the one-season nature of the show and limited budget and time, 3D printing was used to produce many of the components.
The Festival of Gardens in Chaumont-sur-Loire is open until 6 November, including the castle building with its modern art collections and the extensive castle park.