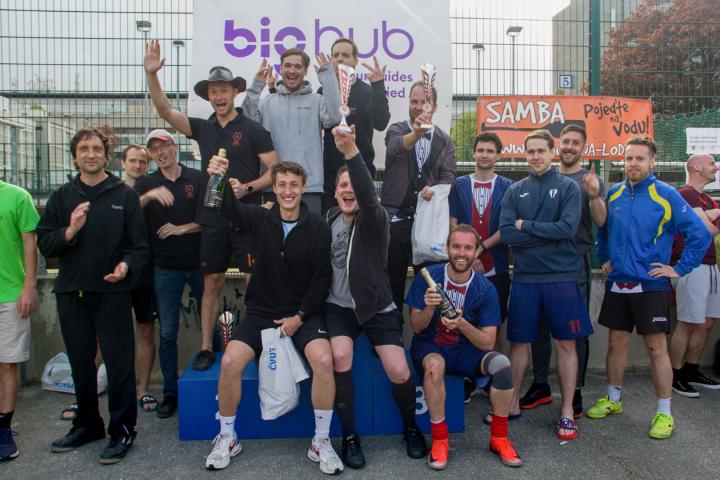 The 10th jubilee edition of the Dean's Cup of the Faculty of Nuclear sciences and Physical Engineering (FJFI) was held on the traditional festive day of 8 May 2022. Unlike the previous two editions, this time it was not spoiled by the pandemic and dozens of teams in four main disciplines were involved in the battle for victory. All of course under the supervision of the Dean of FJFI doc. Václav Čuba.
Futsal, table tennis and volleyball tournaments took place in the Strahov dormitory and a floorball tournament was held in the Pod Juliskou hall. The programme started with a short speech by the dean, followed by the initial groups matches, from which the elimination matches were held.
The start of the final matches was preceded by a beer relay, which was attended by four teams of three people each. The winners of futsal and volleyball then faced off in the so-called Royal Beer Relay for the title of the overall winner of the FJFI Dean's Cup.
Next, doc. Václav Čuba was able to congratulate the winners and awarded the futsal team TJ Sokol Gargamel with the traveling cup for the overall victory in the Dean's Cup FJFI 2022.
The organisers - the sports team at FJFI Tralalala - would like to thank all the helpers and sponsors: Big Hub, Samba, Mercuria Laser Game, Woox for their help in organizing the tournament.
Voleyball:
1) Palianycyia
2) Kuráž
3) Potenciál
Futsal:
1) TJ Sokol Gargamel
2) Tralalalala Resurrection
3) Suit up!
Floorball:
1) United Cuckoos
2) FBC Beton Praha
3) FBC Bez Hanby
table tennis:
1) Šimon Jelínek
2) Daniel Babjak
3) Matěj Hruška
Beer relay: Kapybáry
Royal beer relay: TJ Sokol Gargamel