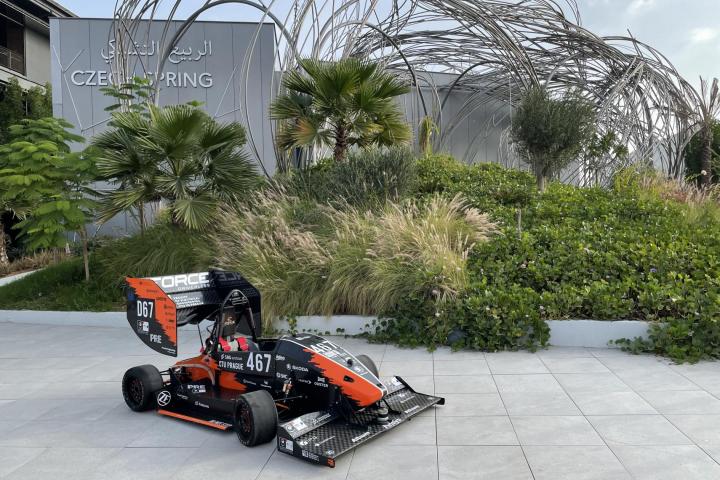 Visitors to the EXPO 2020 World Exhibition in Dubai could see the self-driving eForce Driverless DV.01 team formula assembled by students of the Faculty of Electrical Engineering at the Czech Republic pavilion from 30 January to 13 February 2022.
Formula DV.01 is the first domestic car with autonomous driving and one of the first in Europe. Mechanically, it is based on the seventh generation of the piloted electric model. The ability to drive fully autonomously is provided by a set of sensors headed by LiDAR and stereo cameras, whose signal is then processed by algorithms in an advanced computing unit.
The formula car has already managed to achieve international success, beating teams from renowned universities such as Delft in the Netherlands and MIT in the online competition in the main discipline. At the competition in Most, he achieved third place and thus his first podium finish. Weighing 205 kg, the formula boasts a 0-100 km/h acceleration time of 2.9 seconds.
The student team eForce FEE Prague Formula under the auspices of the Faculty of Electrical Engineering has been developing and building electric monoposts since 2010 and this year will present the eleventh generation to the world. The team consists of 60 undergraduate and graduate students who study mainly at the Faculty of Electrical Engineering and the Faculty of Mechanical Engineering of the Czech Technical University in Prague. In 2020, the team expanded to include a so-called driverless division, which worked on the self-driving formula in collaboration with the rest of the team.
As part of a rotating exhibition called Robot's 100th Birthday, the Multirobotic Systems (MRS) group from the Department of Cybernetics at the Faculty of Electrical Engineering has already presented itself at EXPO 2020 from 23 October to 14 November 2021. 
The common denominator of the products on display in the permanent exhibition of the Czech National Pavilion is water and ecological sustainability. Therefore, the core of the pavilion is the S.A.W.E.R., a technological "miracle" system that can produce water from the air using solar energy and cultivate the desert using subsurface cultures developed by our scientists from the CTU University Centre for Energy Efficient Buildings, Faculty of Mechanical Engineering with the Academy of Sciences of the Czech Republic.