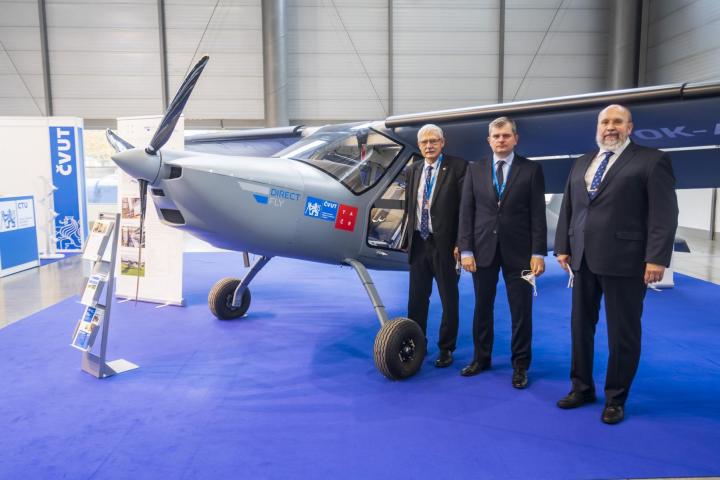 At the International Engineering Fair in Brno, a prototype of the STOL Cruiser aircraft, which is developed in cooperation between the Brno-based manufacturer of ultralight aircraft Direct Fly, s.r.o. and the Institute of Aircraft Technology, Faculty of Mechanical Engineering, CTU in Prague, was publicly presented for the first time. The development of the aircraft was co-funded with state support from the Czech Technology Agency under the EPSILON Programme.
The aim of the project was to offer to the market an aircraft with a short take-off and landing, which would also be capable of flying at a higher cruising speed than is common for STOL aircraft in this category. Another objective of the project was the development of a tool-free technology for the production of individual parts of the aircraft (referred to by the manufacturer as MATCHHOLE), which, in comparison to the conventional technology of production of all-metal aircraft, consists in the fact that all holes necessary for riveting the assemblies are milled already at the stage of production of developed shapes of individual parts and the parts after the edge or pressing no longer need to be drilled before assembly, which is usually time-consuming and creates room for error due to the human factor. The use of this technology significantly reduces the time required for production and also the production costs, and the design and preparation procedure for the production of individual parts has been subordinated to its use.
The STOL Cruiser aircraft is an all-metal, semi-slatted upper airplane with a self-supporting wing, tail surfaces in a conventional configuration and tail gear. The aircraft is designed for operation on short runways and its spacious pilot and baggage compartment, which is above standard size for the category of ultralight aircraft, makes it suitable for versatile use. In order to achieve the lowest possible stall speed, the wing is equipped with a Fowler lift flap and SLOT on the leading edge.
The aircraft has been designed in such a way that the design does not preclude possible future expansion into higher weight categories and the use of a more powerful powerplant.
The press conference for the STOL Cruiser prototype took place on Monday 8 November 2021 at 2.30 p.m. at the BVV Exhibition Centre. Photos from the press conference can be found here.
Detailed information can be downloade here. 
Photos: Direct Fly, s.r.o., a ČVUT v Praze