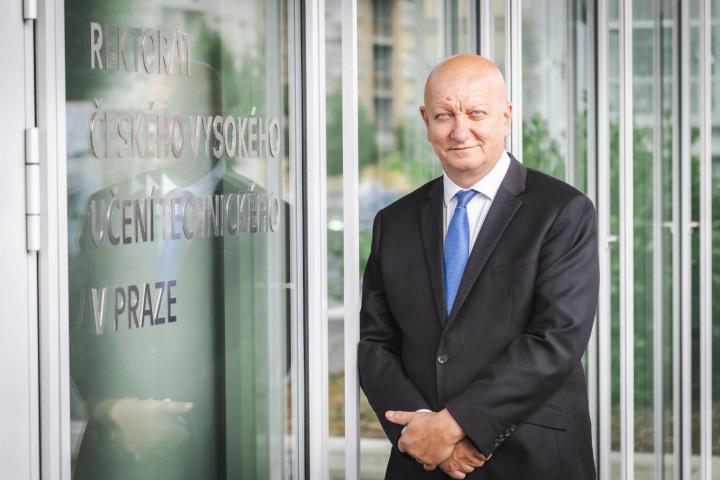 Rector of CTU doc. Vojtěch Petráček sent an open letter today to the Minister of Health of the Czech Republic Adam Vojtěch, in which he strongly protests against the aggressive campaign, using real images of the dying and the dead at COVID to "motivate" them to be vaccinated.
Dear Minister,                                   
As a citizen and rector of the CTU, I strongly protest against the aggressive campaign using real images of people dying and deceased from COVID to "motivate" people to get vaccinated.
Any of us who are equipped with empathy and a sense of the pain of others will suffer at the sight of the cruel images from the Department of Anestesiology and Resuscitation ... regardless of whether is the target of your campaign, if it is a person that has been vaccinated long time ago or whether it is a small child! For many, this stress exposure will trigger post-traumatic stress disorder or depression. This campaign will harm our society across the board and will not work as motivation.
Dear Minister, is there a medical-ethical and psychological assessment of your aggressive and stressful campaign? I very much doubt it!
Your images of the dying and the dead will affect the whole society - our children and all of us will be exposed to intense media stress causing fear and tension in society.
The spread of horror and the image of dying as a means of motivation must be fundamentally rejected! And counsellors who suggest this are bad counsellors!
Aside from the visual part, the textual form is outrageous - how can you know that the deceased had a good reason for not being vaccinated, how can you connect your slogans condemning the deceased to an unfortunate fate you don't know. Dear Minister, this is disgusting!
Why doesn't anyone on your team rather think about why some of us don't want to get vaccinated and offer them a helping hand and a possible path, for example by offering to pay for antibody and cellular immunity tests?
You do know that those of us who have had the disease are better protected from a severe course and hospitalization than those who have not been vaccinated! Many may feel apprehensive before vaccination because they fear a reaction when antibody levels are high.
If they find that they do not have antibodies or cellular immunity, they may consider vaccination for their own protection. If they have a lot of them, a consultation with a doctor is certainly in order to see if a reaction after vaccination would harm them.
The principle of making decisions about your own health must be a free decision without pressure and fear! Your measure grossly violates this principle!
Your next positive steps could certainly include detailed publication of the number of symptomless and symptomatic cases by age group. 
The global figures do not show that, for example, in the group of university students (part of which I have a detailed overview) there are basically no increases. Such structured information would reassure a large part of society!
Mr. Minister, do not take a very negative step in the last days of your presidency, which harms the whole society and only unjustifiably increases the tension and uncertainty caused by the unfortunate way your Ministry communicates in this matter!
Minister, as a simple ethical standard, there is Kant's categorical imperative, which says: "Act according to the principle you would like to be the general law."  Would you yourself wish it to be the law that citizens should be pushed to make personal choices by the coercion and horror of the image of death and dying? I suppose not, as any democratically minded citizen would. That is why your campaign is unethical! I therefore ask that it be stopped immediately.
Yours sincerely
doc. RNDr. Vojtěch Petráček, CSc.
Rector of CTU