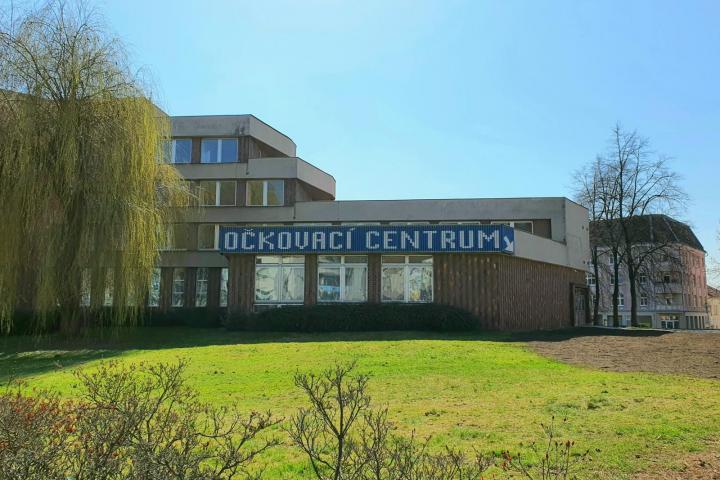 Up to 500 people a day will be vaccinated with the Covid-19 vaccine at the Děčín Vaccination Center, which has been operating in the building of the Faculty of Nuclear Sciences and Physical Engineering in the center of Děčín since Monday 12 April 2021. The faculty provided its large hall for a symbolic CZK 1 per month to the Regional Health Society, which operates the vaccination center. This was prepared for operation by a team of employees of this CTU detached workplace outside Prague.
"In our Děčín premises we have students of the bachelor's field of application of Informatics in Natural Sciences and they will be joined by students of the new field of Radioactivity in the Environment from September. In addition, the building is used by the Faculty of Transport, CTU in Prague. Of course, teaching is now limited, so we are glad that we were able to offer a large hall for a purpose that will allow us all to finally manage the epidemic, "says Josef Drobný, a regular staff member in Děčín, who coordinated the preparation of the center. "The building is right in the center of Děčín, all locals and people from the area know it well and it is easily accessible by road. We even have a parking lot right next to the building just for visitors to the vaccination center. It will be open seven days a week and will be vaccinated in three places at the same time. If there are enough vaccines, it will be possible to increase the capacity up to 500 people a day, "explains Josef Drobný. The faculty also prepared precise instructions for visitors to the vaccination center. The drawing and photos are then up to date on the website. 
The large hall of the FNSPE building in Děčín is commonly used by the faculty, but also by other institutions for various conferences, lectures, presentations, artistic performances or balls. The space occupies an area of 340 m2 and its capacity is up to 200 people. The FNSPE acquired the 1980s building in 1995. 
The Ústí nad Labem region is often referred to as a disadvantaged region. After World War II, the repopulated border brought a population without historical roots, the burden of industrial production and opencast mining added another blow. One of the consequences is the lack of educated people who could contribute to improving the situation of the whole region. The most talented students go to universities, where they form social and economic ties during their studies and then do not return. This was the reason for the establishment of a detached CTU workplace in Děčín - to provide top facilities, quality study programs, all with the hallmark of the oldest Czech technical university, offering students the same quality education as when studying in Prague, but with the creation of social and economic ties in the Děčín region.