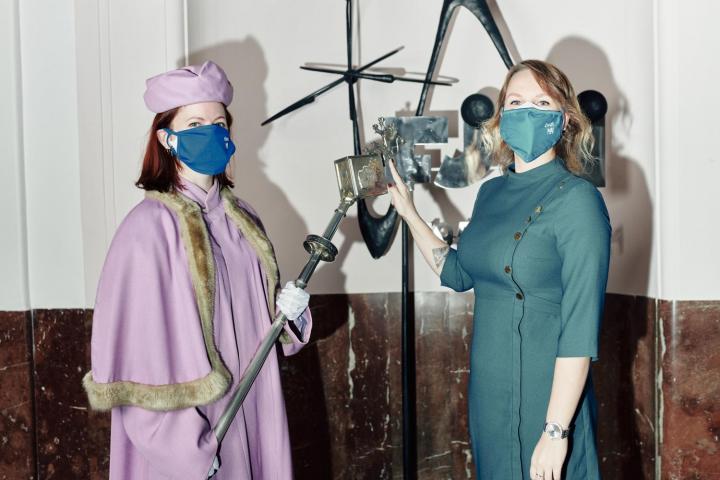 The Faculty of Nuclear Sciences and Physical Engineering (FNSPE) became the first faculty within the Czech Technical University in Prague and the first in the Czech Republic to transfer the graduation ceremony to the online space. It happened on Thursday, 4 March 2021. A total of 69 bachelor's and master's degree graduates graduated.
Due to the ongoing epidemic, most of the graduates and their loved ones gathered at the displays instead of the Bethlehem Chapel. The graduates joined through the Microsoft Teams application, and those interested could then spectate the graduations live on the FNSPE YouTube channel. 
Rector of CTU doc. Vojtěch Petráček, Dean of FNSPE prof. Igor Jex, vice-dean for pedagogical activities and at the same time the promoter prof. Michal Beneš and the secretary of the faculty Ing. Leopold Vrána were each in a different room so that they could control and monitor the cameras without a veil. The editing and technical handling of the live broadcast provided the Audiovisual Center of CTU students. 
During the broadcast, the rector and the dean gave their short speeches, and in a short excerpt, everyone could recall the most important events connected with the faculty during the years when the graduates studied here. There was also a compilation of photographs provided by the students themselves. 
For time and organizational reasons, the graduates were divided into two groups. From each group, two student representatives were directly in the faculty building - in addition to the vow on the scepter, one of them read the vow, the other thanked the faculty and the university on behalf of all the graduates. 
Entire graduation can be watched on YouTube: Skupina A / Skupina B. 
Photos by Vojtěch Veškrna.