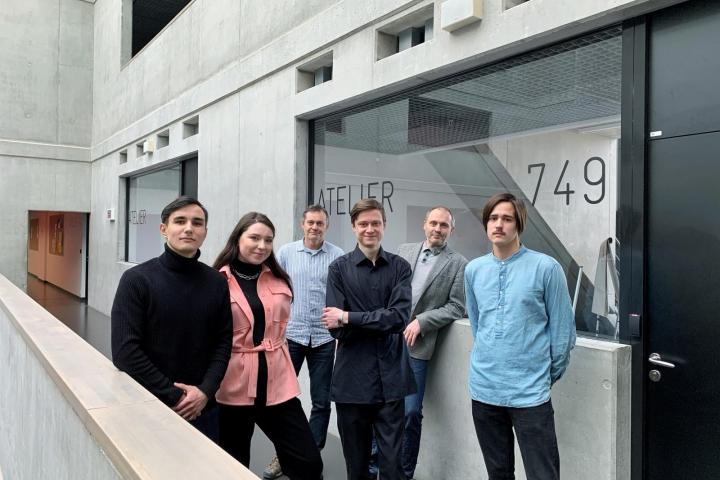 The architectural and urban design of the new Prague East railway terminal presented by students of the Faculty of Architecture Max Petricov, Daria Vlasov, Erik Sovet and Daniiel Solovev, sponsored by architects Radek Lampa and Libor Hrdoušek, won 2nd place in the prestigious competition of the Czech Chamber of Architects. The winner was another teacher from the Faculty of Architecture, Štěpán Valouch and his colleague Jiří Opočenský from the architectural office ov-a. The announcer of this open-project single-phase architectural-urbanistic competition was the Railway Administration.
The terminal will be part of the very first high-speed railway section (VRT) in the Czech Republic as a transfer hub between VRT Prague - Brno and VRT Prague - Hradec Králové. With its architectural and technical solution, it will symbolize a new era of railway transport and infrastructure in the Czech Republic, which will be connected to the European railway network after VRT completion. 
In the work of Radek Lampa's team, the jury appreciated the appropriate location of the terminal building across all the tracks, strong urban and landscape concept with a clearly defined character of places, very well resolved approaches to the platform and transfers to other modes of transport and relatively straightforward connection of the bridge structure with the terminal building. 
"This is a voluntary team of our students of the Faculty of Architecture. The architect and our teacher Radek Lampa mentored and sponsored the students, because they do not yet have the authorization of the Czech Chamber of Architects, without which participation in the competition is not possible, "explains Jan Jakub Tesař, Vice-Dean for External Relations at the Faculty of Architecture of CTU. "We have been cooperating with the architect Radek Lampa for a long time. As members of his team, we participated in about 10 architectural competitions, "says one of the team members Max Petricov. 
Petricov's team placed second in the university competition for the design of the CTU stand at the Gaudeamus trade fair In February 2020. In 2019 it designed a residential module for the Moon and in 2018 it received a reward in the design competition for Lávka over Horoměřická Street in Prague 6. 
"Second place is, of course, a huge motivation for us, because students rarely win prizes in architectural competitions. In the future, of course, we would like to win a competition of such level, "says Max Petricov." We participate in competitions both to win and gain experience. We learn to work in a team, define a common vision, apply the best qualities of each member to productive work. These qualities are a determining factor in success. We think that we have come a long way to be awarded in a competition of this size and we would of course like to win a competition of this level in the future," he adds. 
More information can be found on the Czech Chamber of Architects web.