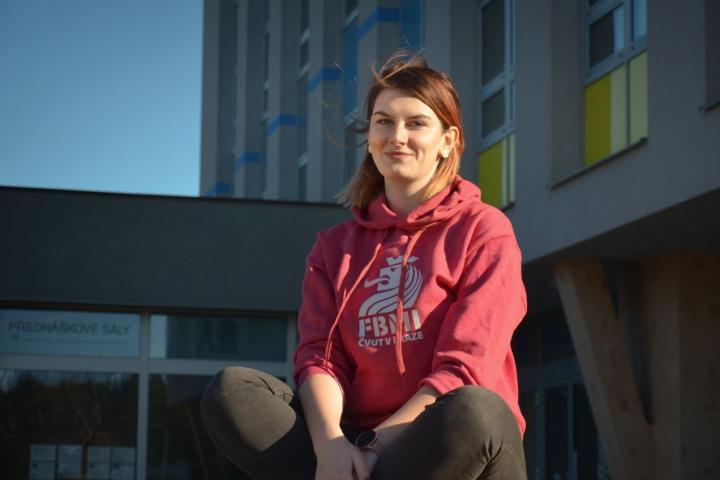 A student of the Faculty of Biomedical Engineering at the Czech Technical University, Alžběta Šabouková, received the Award of the Minister of Education, Youth and Sports for extraordinary deeds of students or graduates for 2020, for saving the life of a driver in a crashed car. She provided quick help to her on 18 November last year, when she found herself in a sudden traffic accident between Třešť and Jezdovice villages.
Alžběta Šabouková immediately provided first aid, performed an indirect cardiac massage, during which two more witnesses joined her, and by the time the RZS units arrived, they managed to bring the driver to catchy breaths. Then they left the care of firefighters and rescuers, who gradually arrived at the scene of the accident. After several tens of minutes, the driver, with numerous injuries but restored vital functions, was transported by rescue helicopter to the hospital.
Ms. Alžběta Šabouková was nominated for the said prize mainly because she initiated the provision of first aid, in very difficult conditions, because the injured person was stuck in a car and first aid was provided through a partially open door. Were it not for the student's timely decision, the injured driver would not have survived.
The second reason for which Alžběta Šabouková was nominated for this award is the fact that she has been working in the field of care for the elderly for several years. This year, she also cared for elderly patients with coronavirus and needed help in the follow-up care.
"Alžběta Šabouková is a very dedicated volunteer and has a very deeply developed social feeling. This is also evidenced by the fact that he is pursuing the Biomedical and Clinical Engineering stu dy course in the 3rd year of  the Biomedical Engineering study program at the Faculty of Biomedical Engineering, and at the same time the General Nurse program at University of South Bohemia in combined form of study, "adds doc. Ing. Jiří Hozman, Ph.D., Vice-Dean for Development and External Relations, Faculty of Biomedical Engineering.