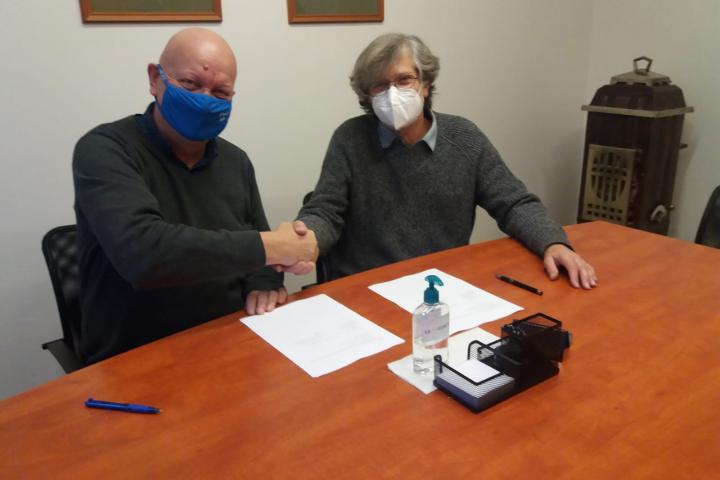 Rector of CTU in Prague doc. Vojtěch Petráček together with Ing. Martin Peterka, Chairman of the Board of the Czech Architecture Foundation, signed purchase agreement today, covering the purchase of the Jaroslav Frágner Gallery (Building No. 169) on Betlémské náměstí, Prague 1.
The management of the Czech Technical University has been dealing with the purchase of the Jaroslav Frágner Gallery in a number of negotiations for more than a year. "Thanks to the ownership of this property, the area of the Chapel and the Palace, already owned by the Czech Technical University, will now be enclosed," said the Rector of the Czech Technical University in Prague, doc. Vojtěch Petráček.
Profit for CTU will not be the prime aim of the project, but the creation of a cultural space in the historical center of Prague. "Such a place will not only revive the existing cultural environment, but will significantly strengthen the awareness of CTU among the public and bring new students to us. At the same time, we can contribute to increasing the quality of cultural life in the center of Prague. We will also provide space for activities for our students, so the gallery will become a place of cross-university cultural cooperation of students, "adds the Rector of CTU doc. Vojtěch Petráček.
The combination of all spaces and the connection of the Bethlehem Chapel with the Frágner Gallery (underground and through the bridge) will create an interconnected whole, which will bring many more people to the gallery during tours, allowing for combining exhibitions with musical events in the gallery, Bethlehem Chapel or student club. The connection will also enable the organization of professional conferences in several halls of the complex.
As soon as the pandemic situation ends, the Czech Technical University in Prague will strive to expand the number of cultural and commercial events, the organizers of which will be offered greater space capacity and better facilities. Currently, the Bethlehem Chapel has a Lapidary available for exhibitions, which together with the new spaces could be used on a larger scale in the future, including educational events for families with children. Part of the CTU premises are planned to hold a student club with gastronomic facilities in an underground restaurant in the Frágner Gallery building.
Other steps leading to the revitalization of the Bethlehem Chapel will include the acquisition of a new organ, for which a public collection is currently taking place through the CTU Alumni Association in Prague.