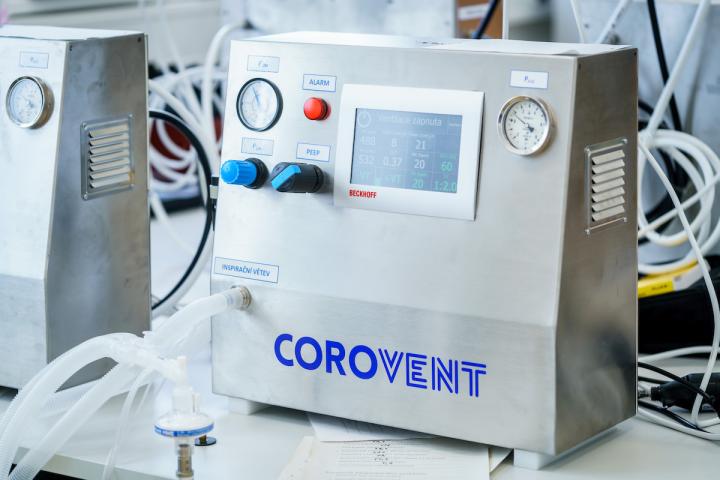 CoroVent lung ventilators, which were attended by citizens and companies in a public collection this spring, are ready for delivery to Czech hospitals.
For distribution purposes, a page with a simple form was set up on the CTU in Prague website, after which CoroVent will be delivered to the relevant facility - www.cvut.cz/corovent. If the interest exceeds the available number of fans, we will initiate the production of others so that it reaches all interested parties.
The first step is to use the form to find out the demand for CoroVent. Only medical facilities with an anesthesiology and resuscitation department and experience with invasive lung ventilation may apply for a CoroVent ventilator. It is also possible to request Covmask full face masks in the same form. These were developed by the Czech Technical University in Prague in cooperation with the COVID19CZ working group in the spring of this year.
The CoroVent fan was designed by a professional team of Professor Karel Roubík from the Faculty of Biomedical Engineering to meet the essential requirements of ČSN EN ISO standards for emergency care fans and medical devices in general, which can be met during emergency fan development. In selecting them, U.S. requirements were used as minimum requirements. Food and Drug Administration (FDA) for the approval of emergency fans, the so-called "Emergency Use Authorization (EUA)".
The manufacturer of CoroVent, which is the company MICo Medical in Třebíč, applied to the FDA for authorization of this ventilator in the EUA mode, provided and documented the required documents, including laboratory tests of the ventilator's function. The authorization was granted on 21 August, 2020. The documents provided by the manufacturer to the FDA have already been sent to the Ministry of Health of the Czech Republic.
"Citizens and companies submitted for 182 CoroVent lung ventilators through the Donio Endowment Fund in a public collection, when a total of CZK 22 million was collected. Another CZK 5 million were donated through the Red Cross to Coca Cola. We would now like to hand over these ventilators to our hospitals, which are filling the cases of patients with severe Covid19, "said doc. Vojtěch Petráček, the Rector of CTU in Prague.