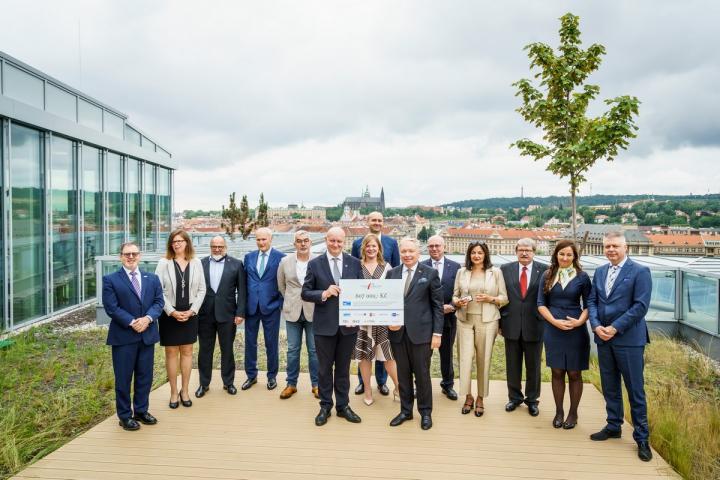 Asymbolic check of a special financial collection was organized by the Czech-Israeli Mixed Chamber of Commerce (ČISOK) for the Czech Technical University in Prague (CTU) on 11 June 2020. The collection was announced at the beginning of April and by the end of May, the chamber managed to collect CZK 607,000. The donation will be used for a project of improvised full-face masks for first-line physicians, in which CTU cooperates with the COVID19CZ working group.
President of ČISOK JUDr. Pavel Smutný states: "Every year, the Czech-Israeli Mixed Chamber of Commerce awards the Arnošt Lustig Prize to important personalities who lead lives fulfilling qualities, such as courage and bravery, humanity and justice. This year, however, the award ceremony could not take place due to the Covid. We asked the partners of the competition to redirect their support to the collection for CTU. We were very pleasantly surprised by their response and the overall yield of the collection." He has later thanked all the initiators, organizers and supporters of the collection. Donors with the highest financial amount include Česká spořitelna, Lighthouse Services development group, the Císař, Češka, Smutný law company, Pramacom Prague, Dekonta environmental company, CSG Czechoslovak Group, Česká zbrojovka, Scanservice, analyst and publicist Roman Bajčan and businessman Karel Čejna.
Rector of CTU in Prague doc. Vojtěch Petráček accepted a gift and recapitulated projects in which experts from the Czech Technical University were involved and which deal with research topics related to the COVID-19 pandemic. He recalled the CoroVent lung ventilator, which was started in series production at the end of April under the license of the Czech Technical University by the MICo Group in Třebíč and which is also succesfull around Europe. Furthermore, protective half masks, full-face masks, other protective aids and applications developed by teams of scientists and technicians at CTU. "I am very happy that, as a university, we were able to help the society when needed. I see this as the role of academic institutions in general, "adds the rector of CTU doc. Vojtěch Petráček.
From the CTU projects, ČISOK Council member Linda Štucbartová, DES, MBA, highlighted the innovative online hackathon, in which talented students joined forces with experts to help companies, institutions or organizations cope with the economic consequences of coronavirus and mitigate the effects of the current unfavorable situation. She also evaluated the Czech and Israeli approach to cooperation between Czech and Israeli universities, including their connections with companies.