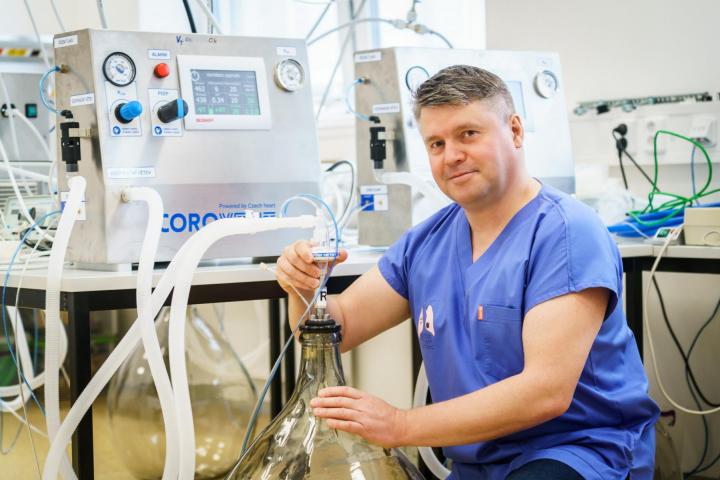 The CoroVent pulmonary ventilator was developed in cooperation with the COVID19CZ initiative and other experts by the team of Professor Karel Roubík from the Faculty of Biomedical Engineering. At the end of April, the ventilator was mass-produced by MICo Group company in Třebič under the CTU license. CoroVent is now thriving in Europe as well. It won second place in the EUvsVirus hackathon, the largest pan-European online event of its kind, initiated by the European Commission together with the European Innovation Council. No similar project has emerged in these months in Europe to enter the production and certification phase.
The aim of the hackathon was to find practical solutions in the fight against the ongoing COVID-19 pandemic. The event brought together 22,600 participants from different European backgrounds and included more than 37 pandemic-related challenges. In addition to EU Member States, non- member countries also participated in the hackathon. A total of 1,169 new teams were formed, which can lead to the creation of new companies. 117 innovative solutions to support recovery after the COVID-19 pandemic were selected as winners of the European hackathon #EUvsVirus .
The hackathon was also attended by 146 participants from the Czech Republic, who submitted 30 proposals for solutions. The CoroVent project ranked second in the "Fans / Respirators" category. Subsequently, he was selected among the top 31 projects that presented themselves live at the follow-up "matchathon". More information about this event can be found at https://www.euvsvirus.org/programme/.
"CoroVent is a beautiful example of how companies cooperate with academia. This increases our competitiveness as a country, "said the rector of CTU doc. Vojtěch Petráček.
Professor Karel Roubík has been working on lung ventilators 25 years. "It has similar quality and safety features to a ventilator used in intensive care units, but does not have the functionality irrelevant for patients with coronavirus. It offers simpler operation and does not need as trained staff as a classic ventilator, "prof. Karel Roubík described the CoroVent.
 
"At the end of April, we started mass production of the device, which did not exist at all at the beginning of March," said Jiří Denner, CEO of MICo Group. "As a matter of priority, we have prepared 180 pieces for the Czech Republic. By the end of May, we had assembled another 200 lung ventilators. CoroVent has thus become a strategic product on an international scale, "added Jiří Denner.