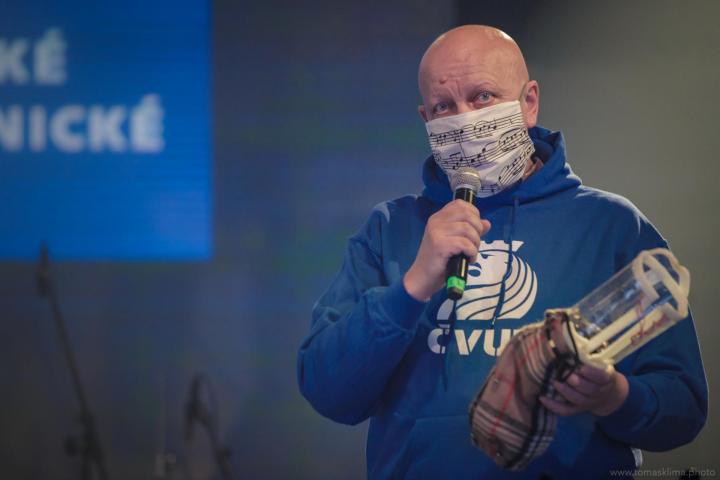 A virtual music festival of 9 bands and musicians took place in the Lucerna Music Bar from 4.30 pm to 11 pm on Wednesday, 13 May, 2020. The event with the motto "Musicians to Scientists: Man Science of Art Tolerance" was accompanied by the Rector of CTU doc. Vojtěch Petráček.
In the course of the afternoon and evening, Ewa Farna, The Atavists, TamTam Batucada performed on stage with the Vibrasil Samba Show, VANUA 2, Wohnout, N.O.H.A., Circus Ponorka, Vašek Koubek and Tomáš Matonoha & Inspektor Kluzó. Scientists and leaders of individual teams, including the rector of CTU doc. Vojtěch Petráček.
The broadcast was in Czech and English and was shared worldwide, for example on the websites of Czech Centers Abroad, embassies and websites of the Ministry of Foreign Affairs of the Czech Republic, partner universities and student organizations, hospitals and festivals, music bands and theaters.
The live stream was provided by the AVC - Audiovisual Center of CTU students, and thanks to the Lucerna Music Bar, viewers were allowed to "enter" the club directly through video technology. This way, the bands were given back the opportunity to perform at a concert with the audience present and the audience was given a chance to be part of the live concert again. Viewers connected to the virtual room via a video platform, and video from their webcams was displayed on LED screens located in the Lucerna Music Bar. In the virtual room, spectators could watch a live concert, see who watches with them or share their concert experiences via chat. So almost like a classical concert.
You can watch the video of the music festival at: https://www.youtube.com/watch?v=K0CkCZza-fs
Special thanks go to all those who participated in the event, namely.
Stream: AVC ČVUT – Vladimír Proton Petráš and his team
Lucerna sounding: Jiří Kulich Novotný (one of the best czech sound engineers)
Acoustic mastering for stream: Petr Blažek (excellent sound engineer, manager, chairman of MMF, and who knows what else)
Stage manager: Martin Vacek (master in his field)
Stagehands: Shameless 
Production: Maya Machová, Robert Schroth
Director, dramaturgy, executive producer: Jiřina Šimková
Photo: Tomáš Klíma
Pictures from the event by Jiří Ryszawy from CTU can be found here.