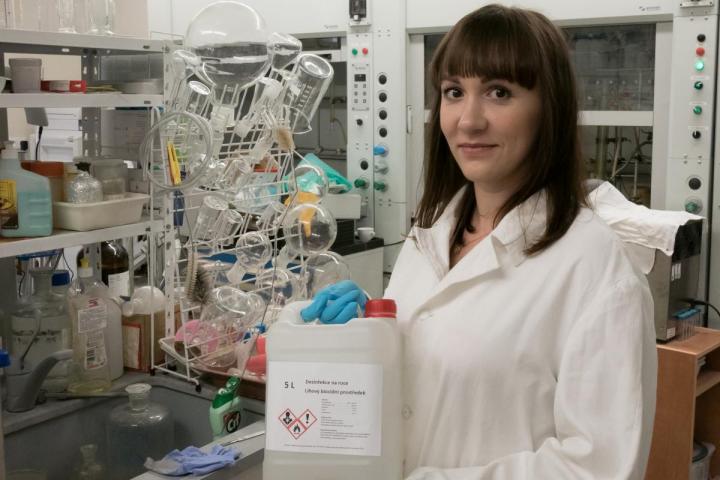 As soon as the number of confirmed COVID-19 infections began to increase in the Czech Republic, all disinfection disappeared from shops and warehouses. Its acute shortage was immediately addressed by the Department of Nuclear Chemistry (KJCH) at the Faculty of Nuclear Sciences and Physical Engineering of the Czech Technical University in Prague (FJFI), which practically started the production of AntiCOVID disinfection from day to day.
Our employees and students were able to pour in the first tens of liters for the needs of CTU already on Monday, 9 March. After a month and a half, on Friday 24 April, the produced volume reached 112,000 liters! "At the end of April, we stopped production because the industrial production of disinfection was in full swing, which is of course significantly more efficient than what we are able to implement on the faculty premises," explains doc. Václav Čuba from KJCH, who also participated in the production.
"We very much appreciate your willingness to help at a time when Prague was affected by the infection with a new type of coronavirus," said Petr Hlubuček, Deputy Mayor of Prague for the environment, infrastructure, technical equipment and safety. The help of the faculty came at a time when there was an acute lack of disinfection on the market and lasted until traditional companies managed to prepare industrial production in sufficient volumes to meet the high demand.
"As scientists, we mostly work with pipettes and test tubes with milliliter volumes. With disinfection, we have tried what it is like to multiply production. In the first week, we went from tens to thousands of liters, then to three thousand liters a day, and we ended up producing up to seven thousand liters of disinfection per day. It is an interesting experience for us to transfer chemical processes from laboratory to operational scale, "specifies doc. Václav Čuba. Tens of thousands of liters of disinfection meant the constant transfer of raw materials within the faculty building in the center of Prague to the laboratories and back for transport to customers.
A total of 34 people - from scientists to students - took part in the production, working over 3,600 hours, i.e. 451 eight-hour shifts. The faculty produced disinfection for the needs of CTU, but also for other institutions, especially the organization of the capital City of Prague, Integrated Rescue System of the Capital City of Prague, Prague Public Transit Company, the National Technical Library, the Motol University Hospital, the Liberec Air Rescue Service and the Mountain Service of the Czech Republic, many general practitioners and dentists, children's homes and retirement homes and other public benefit organizations.