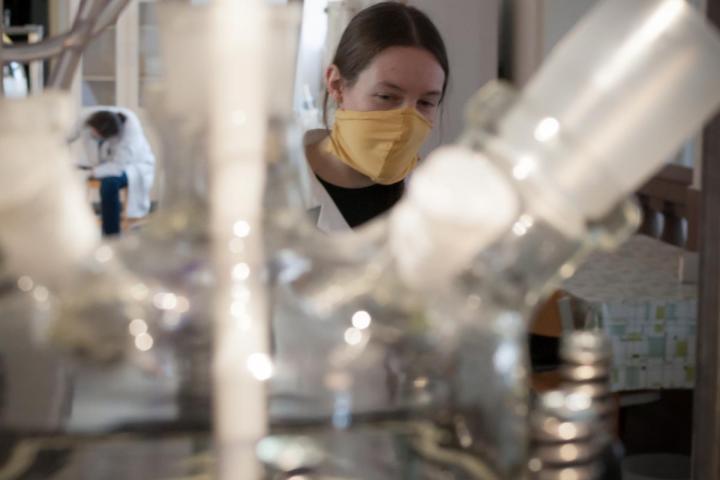 Laboratories of the Faculty of Nuclear Sciences and Physical Engineering of the Czech Technical University in Prague (FNSPE) were transformed into a manufactory in March. Due to the general lack of disinfectants on the market, the Department of Nuclear Chemistry (KJCH) started to produce its own disinfectants for the needs of the university and other institutions.
The faculty's chemical laboratories are busy with production, as scientists and students produced approximately three thousand liters of the Anti-COVID - disinfectant for both hands and surfaces during the first few days. In the following week, production was increased by using all available reactors, the largest of which has a capacity of 200 liters.
Gradually, with great help that also came from the CTU Rectorate, other raw materials for production, in particular ethyl alcohol, were obtained. Some of them were supplied by customs officers from stores of confiscated alcohol, some by other suppliers. In addition to ethyl alcohol, the production requires even more pure water - aqua purrificata. This is what scientists produce by reverse osmosis in the laboratory, where they disinfect water using UV radiation. Final step is to label all barrels and bottles with disinfectants. "Production capacity is now roughly between 3500 and 3800 liters, depending on the availability of raw materials. As scientists, we are used to working on a much smaller scale. However, we are all pleased that disinfection will quickly get where it is needed - for example, to the Mountain Rescue Service, "says doc. Václav Čuba with a veil on his face, showing another delivery - five kilograms of quality coffee beans. "And this came to us from Kantor Coffee café to give us a little extra energy. We thank them very much, of course, this selfless delivery made us happy. "
In addition to CTU, the Faculty provides the anti-COVID disinfection to a number of other institutions, such as the City District of Prague 6, the City District of Prague - Suchdol, the City District of Prague 7, the City District of Prague - Čakovice, the integrated rescue service of Prague and Prague public transportation company, Motol University Hospital, Liberec Rescue Service, National Technical Library, Mountain Rescue Service of the Czech Republic, social services in Prague and some others. "We began production before school closed on March 11, 2020, and in the first two weeks we produced about 20,000 liters of disinfectant. We are promised supplies of raw materials for another approximately 70,000 liters, "adds doc. Václav Čuba.
Photographs from disinfection production at CTU on Flickr.
Production of disinfection - procedure
The following raw materials are used for the production of Anti-COVID disinfection in the given ratio:
ethanol (denatured) 79.6%
hydrogen peroxide (3%) 5.0%
glycerol (98%) 2.2%
water 13,2%
In addition, several drops of essential oils per liter can be added (FNSPE adds citral or menthol). The components are accurately measured and mixed thoroughly.