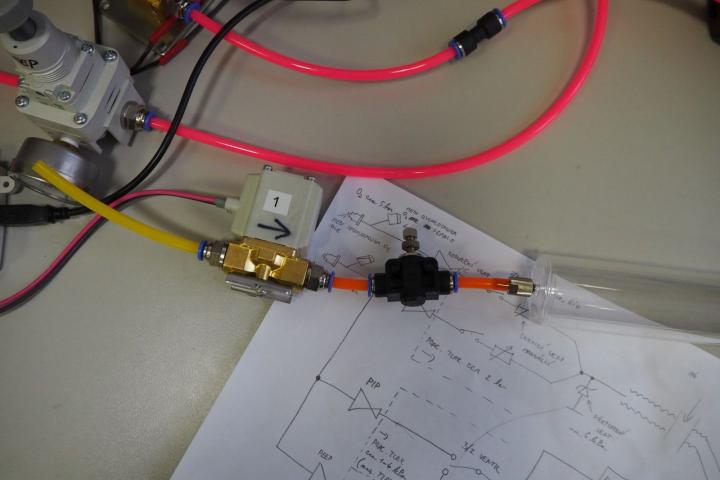 The lung ventilator for patients with severe COVID-19 disease was developed by experts from the Faculty of Biomedical Engineering, in cooperation with experts from the University Hospital Hradec Králové, Thomayer Hospital in Prague, Masaryk Hospital in Ústí nad Labem and the State Institute for Drug Control. Now they are fine-tuning the preparations and, in cooperation with companies, will start the production of the first hundred pieces. The ventilators would help in case of an increase in patients in serious condition.
"We have completed the pneumatic design, we are solving from what components the fan should be assembled in such a way that everything works perfectly," said the research team leader Prof. Karel Roubík from the Faculty of Biomedical Engineering of the Czech Technical University. "We want to produce the first 100 pieces and we think that there will be no problem to prepare hundreds of fans. Therefore, we want to have at least around five hundred of each of the used parts, "he explained.
The estimated cost of one ventilator, which is also manufactured using 3D printing technology, is 100,000 crowns. It will be designed specifically for the needs of people with more severe COVID-19 disease. "Its quality and safety has similar characteristics to a ventilator that is used in intensive care units but does not have the functionalities unnecessary for patients with coronavirus," described Prof. Roubík.
He added that the planned production of fans would take a maximum of 14 days. "We would like to do this earlier, companies already have a part of the solution, but some things are difficult to find, which forces us to compromise - and slows us a bit," explained Prof. Roubik. As he added, there is a whole group of partners - like Prusa Research, Mico, Beckoff and many others involved in the Covid19CZ initiative bringing together technology companies and developers.
The government is in favor of preparing alternative lung ventilators. "It promised that when we have the first functional and tested sample, it will help us get all the necessary certifications needed to use ventilators in hospitals within one day," Roubík said. However, during an epidemic, it will be approved as a full-fledged device.
Roubík's team has extensive experience with similar projects. "We have already developed many different modules for ventilation technology, monitors, we have designed and developed a ventilator for the contaminated zone," concluded Prof. Roubík.