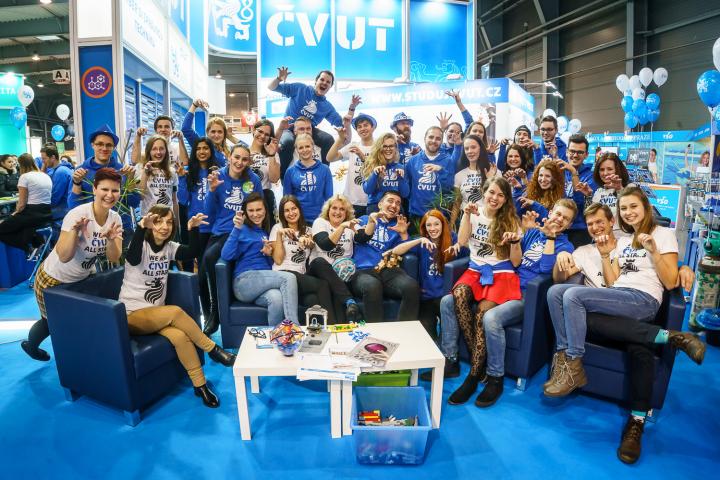 The university-wide CTU exhibition was unavoidable at the XIIIth annual European Fair of Lifelong and Post-secondary Education, Gaudeamus Prague not only thanks to events at the stand, but also interesting lectures by representatives from individual CTU faculties. They enjoyed great interest from high school students and their teachers who perceived CTU very positively. This is evidenced by the fact that in the competition for the best exhibition of the fair, we got second place competing with the attractive expositions of other universities.
In the interactive part of the CTU exhibition, visitors liked the functional model of a part of the Olympic water channel, which was designed at the Faculty of Civil Engineering for the Summer Olympic Games in Tokyo. Robot Louis from the Faculty of Electrical Engineering and the Van de Graaff generator raised the same interest. Similarly intriguing was Ruprecht the skeleton of the Faculty of Mechanical Engineering, demonstrating selected joint, intervertebral and dental restorations and external fixators or a lie detector of the Faculty of Biomedical Engineering.
In the pleasant chill-out zone, visitors to the fair could refresh themselves with a blue soft drink called Blue lion, which we served in a cup made of ecological PLA material. It is made from starches of plant biomass. Its advantage is biodegradability and compostability.
A record 306 universities, universities and other educational institutions were represented at this year's Gaudeamus fair. The number of visitors to the fair was slightly over 13,000 prospective students from secondary schools during the three exhibition days, which is 800 visitors more than last year.