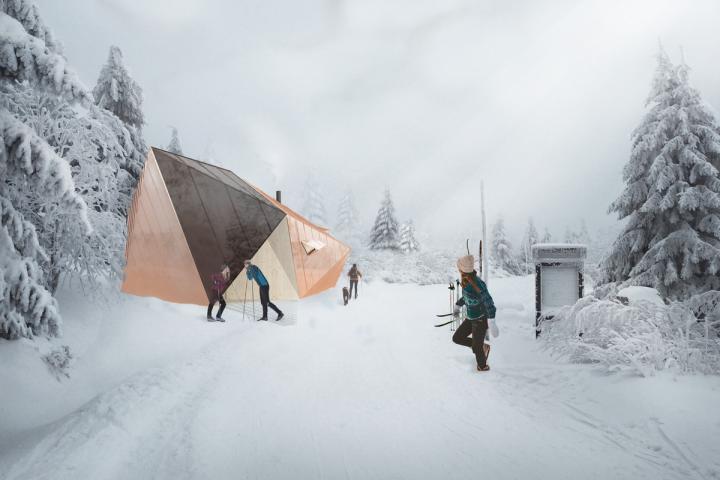 58 students from 9 Czech and Slovak faculties enrolled in the 7th year of the Building with Wood Fragrance contest who prepared 38 works. Sharing prizes for 200,000 crowns, 7 winners were selected by the jury and the public and partners of the competition. Students competed in two categories: Wooden constructions - small and Wooden constructions - large. Tereza Krákorová from the Faculty of Architecture won the Professional Jury Award for her design of a mountain buffet under Velká Deštná summit. Dávid Ferčák from the Faculty of Civil Engineering won the Kronospan Prize for the use of OSB boards in a family house in the Křivoklátsko Protected Landscape Area.
The theme of this year was "Wood protects us". The students emphasized that wood belongs to the landscape and protects it against invasive elements of civilization. It is a space where we can relax from the rush and stress of modern times. The students also mentioned his positive influence on our psyche. Especially in the shelters, they saw wood as protection from the weather. Some saw the role of wood more globally as a path to sustainability and protection from climate change.
Dávid Ferčák said: "Sustainable development is a very important phrase for our future. Wood as a natural and renewable resource is one of the best ways to help our planet and protect the environment we are destroying. By using wood properly in architecture, we can show  that we really care about our planet and create spaces that look good and provide a quality indoor climate for our health. We thus need to talk more about this material in society to protect the wood."
The competition is organized by the Wood for Life Foundation, which in its projects points out the benefits of using wood for our society and the environment. The aim of the student competition is to motivate students of colleges and universities to implement timber (not only) in their school works.