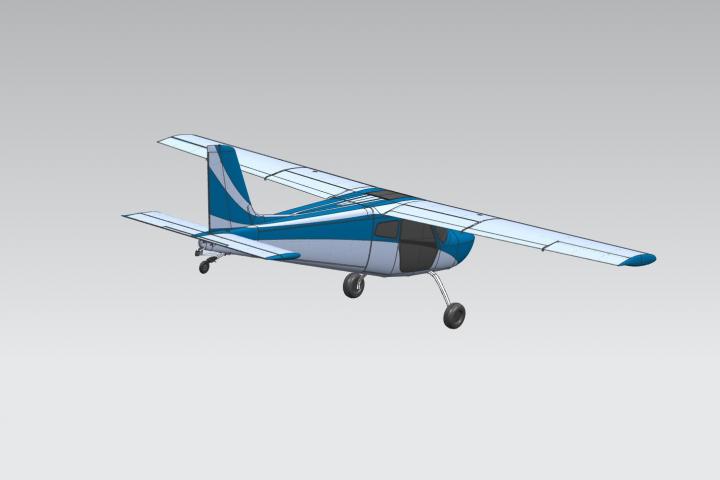 Experts from the Institute of Aerospace Engineering at Faculty of Mechanical Engineering, together with Direct Fly, s.r.o, are involved in the development of a new all-metal aircraft in the UL / LSA category. The new UL will be designed for certification with a maximum take-off weight (MTOW) of 600 kilograms. It should be applicable not only for landing on short, unpaved surfaces, but also as a cruise aircraft for long-haul flights and at higher cruising speeds than other airplanes of the same category. It should be capable of short take-off and landing (STOL). Runway of 89 meters should be sufficient to take-off and ascent up to 15 meters, landing from 15 meters of height should require about 250 meters of runway. At the same time, the aircraft is designed as a kit (Kitplane) and such technology allows significant reduction in costs and shorter production deadlines.
Experts from the Faculty of Mechanical Engineering prepare mainly the conceptual design of the aircraft, and also deal with aerodynamic and strength calculations, design of the structure and strength tests. On the other hand, the aircraft manufacturer is in charge of the definition of aircraft requirements, production documentation, technological production preparation, technology development, production, promotion and subsequent sale. Currently, the production and assembly of a test prototype and strength tests of basic building components are underway. The first take-off is planned next year.
The joint project of development of aircraft with low requirements on runway length, construction and testing, was financially supported by the Technology Agency of the Czech Republic. More than CZK 6.7 million were invested into its development from the EPSILON program. Development began with Direct Fly last year, when a team of experts conducted an optimization study, prepared documentation, optimized the powerplant, and started the production of verification prototypes. Furthermore, experts designed all the necessary building components and then began assembling the prototype, designated for stress tests.