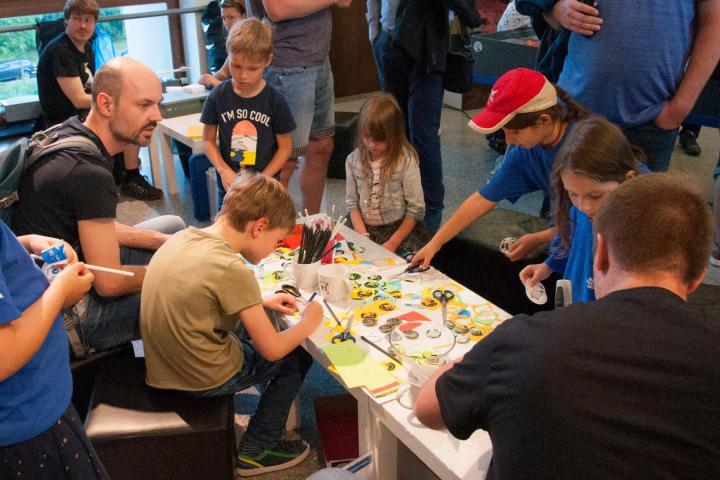 This year, CTU again presented itself at the National Technical Museum, where it presented its interactive exhibits and projects as part of the 16th Prague Museum Night. Visitors of all ages could discover themselves that studying science and technology at CTU in Prague can not only be interesting, but also useful for society. We introduced technical innovations, project presentations and attractions to see elsewhere than on campus.
Those interested could complete the traffic safety test and try driving a car on the Transport Simulator of the Faculty of Transportation Technology. An interesting exhibition was offered by the Faculty of Mechanical Engineering, in which they presented devices for teaching biomechanics, microfibre machines and wing models for unmanned aerial vehicles with a demonstration of strength testing. During the evening, visitors of all ages could also participate in the Faculty of Civil Engineering creative workshop and refresh themselves with the canal model that was designed for the Rio de Janeiro Olympics. No less attractive was the presentation of the project "Propagation of Electromagnetic Waves in the Human Head and its Use in Medicine or the Mobile Phone, How Much It Shines in Our Head", as well as the lie detector and exhibition about Human prepared by the Faculty of Biomedical Engineering. Visitors were able to take home prints from the 3D printer, view examples of more complex prints from various materials, and solve the 3D printed puzzles by the Faculty of Information Technology. Interactive and playful physics was presented by the Faculty of Nuclear Sciences and Physical Engineering. The Masaryk Institute of Advanced Studies presented a wide range of visitors to the Museum Night with history of technology in nature, museums and books. The Historical Laboratory of Electrical Engineering of the Department of Economics, Management and Humanities of the Faculty of Electrical Engineering demonstrated its cooperation on the creation of the Museum of Electrical Engineering and Computer Science in NTM, forms of its scientific activities and the doctoral studies in the field of History of Science and Technology.
Almost 9,000 visitors came to the National Technical Museum during the Museum Night.