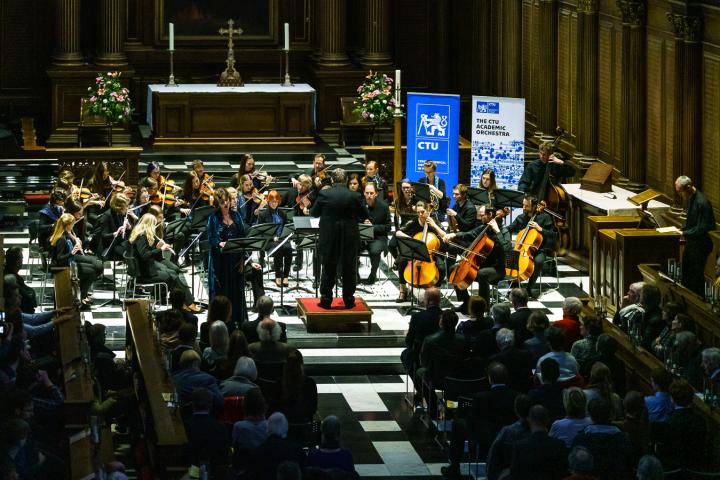 The CTU Academic Orchestra, led by the conductor Jan Šrámek, performed at the Trinity College Chapel in Cambridge, UK, on 27 April with a concert entitled JEWELS OF CZECH AND WORLD MUSIC, featuring both Czech and foreign compositions. Soloists included Rachel Godsill (soprano), Simon Godsill (organ), Anna Michalcová (flute) and Krištof Pučejdl (flute). Associate Professor Vojtěch Petráček, the CTU Rector, also attended and commenced the concert.
This extraordinary concert would not have been possible without Professor Nick Kingsbury of the University of Cambridge, who is also an honorary doctor of CTU, and Professor Aleš Procházka of CIIRC CTU, who, through his long-standing personal relations, mediated contact with the local university. In addition to the rector, Chancellor CTU Ing. Lucie Orgoníková, Vice-Rector of CTU Ing. Radek Holý and Director of CIIRC ČVUT Mgr. Ondřej Velek also attended the concert.
The concert was held under the auspices of Libor Sečka, Ambassador of the Czech Republic to Great Britain, Denise Waddingham, Director of the British Council in the Czech Republic and Mr. Guy Roberts, Art Director of the Prague Shakespeare Company.
You can find the concert programme here.
You can read more about the CTU Academic Orchestra on www.cvut.cz/akademicky-orchestr-cvut.