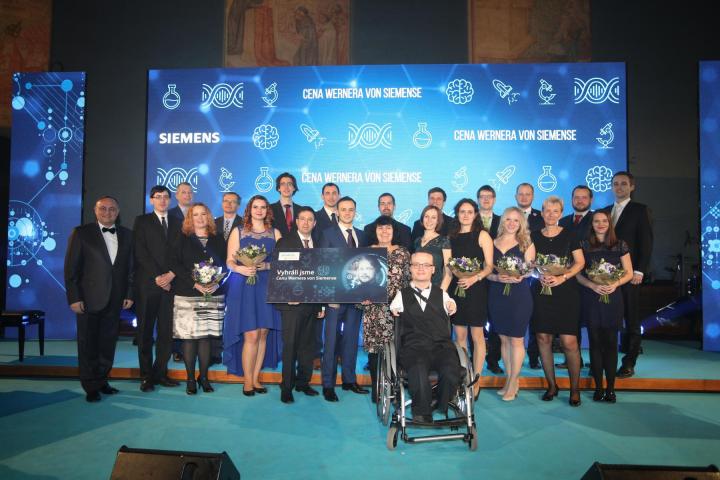 On Thursday 28 February, the results of the 21st edition of the prestigious Werner von Siemens Prize were announced at the Bethlehem Chapel. Among the winners were Ing. Jan Filip from the Faculty of Electrical Engineering and Ing. Libor Bukata of the Czech Institute of Informatics, Robotics and Cybernetics.
The 2nd place in the category of Best Diploma Thesis was awarded to Ing. Jan Filip for his work on Trajectory Tracking for Autonomous Vehicles. Special prize for graduate thesis dealing with the concepts of Industry 4.0 was obtained by Libor Bukata from CTU CIIRC, which focused on optimization, scheduling and planning of production. He designed algorithms to find an efficient sequence of production operations to achieve maximum efficiency. Based on verification of algorithms in practice, it has been confirmed that it is possible to save up to 20% of energy.
The Werner von Siemens Prize is organized by Siemens together with senior representatives of the universities and the Academy of Sciences of the Czech Republic, who are also guarantors of each category and are involved in the evaluation of the best works. The Ministry of Education, Youth and Sports, the Ministry of Industry and Trade and the Prime Minister of the Czech Republic, Andrej Babiš, provided the patronage for the award of the 21st edition.
The Werner von Siemens Prize
is one of the most significant independent initiatives of its kind in the Czech Republic with its scope, amount of financial rewards and history. During the previous twenty years of the competition, 344 students, educators and scientists were already awarded, and Siemens, supported Czech education and science with a total of ten million crowns in the form of financial rewards.