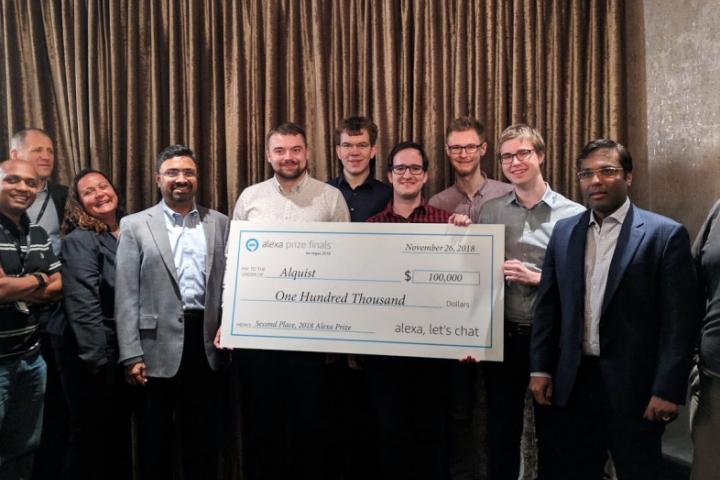 The Alquist team, made up of students of the Faculty of Electrical Engineering and the Faculty of Information Technology, took the second place in the finals of the prestigious Alex Prize Competition on Best Conversational Artificial Intelligence, organized by the American giant Amazon. For the second time, it was the only team from a non-English-speaking country that made it to the final round. The aim of the competition is to develop an artificial intelligence for Amazon Alexa, capable of chatting with people on popular topics such as movies, sports or music. The competition was attended by leading universities from around the world. Moreover, the Czechs again advanced from the first place in semifinal. The results were announced at Re: Invent 2018 on Monday 26 November in Las Vegas in the evening, local time. The team, headed by Jan Šedivý from CTU-CIIRC and formed by Jan Pichl, Petr Marek, Jakub Konrad, Martin Matulík and Petr Lorenc, will come back from the USA with the $ 100,000 prize which converts to over 2 million crowns.
The task of the competition was to develop a "social bot" - an artificial intelligence capable of conducting fun, fluent and natural conversation with a person on all sorts of popular topics across the Amazon Echo. The Czech team was able to handle an exceptionally large number of themes as compared to all the other competing bots this year. The bot´s development has been going on for nearly a year, since December last year until mid-November 2018, and during the competition, Amazon users themselves engaged in hundreds of thousands of conversations with it. The competing teams received a $ 250,000 research grant for the bot development, along with some of Amazon's technology (Alexa device or AWS access). Users can talk with the final bots even now by using the "Alexa, let's chat" command.
Consisting of several rounds, the prestigious competition for Best Artificial Intelligence was attended by 8 teams from the most prestigious universities in the world, selected from more than one hundred registered institutions. In the semifinal, which ran from 2 July to 15 August, the Amazon Alexa users evaluated anonymously all competitors on a scale of 1 to 5 stars. Two best user - rated social bots have passed to the final with one additional by wild card. Alquist, same as last year, has advanced from the first place.
The Alexa Prize contest aims to improve the Amazon Alexa conversational technology, an artificial intelligence offered in various products (for example, the Amazon Echo). Amazon has rewarded $ 3.5 million in the competition this year. The Alquist bot is developed within the eClub Prague student incubator.