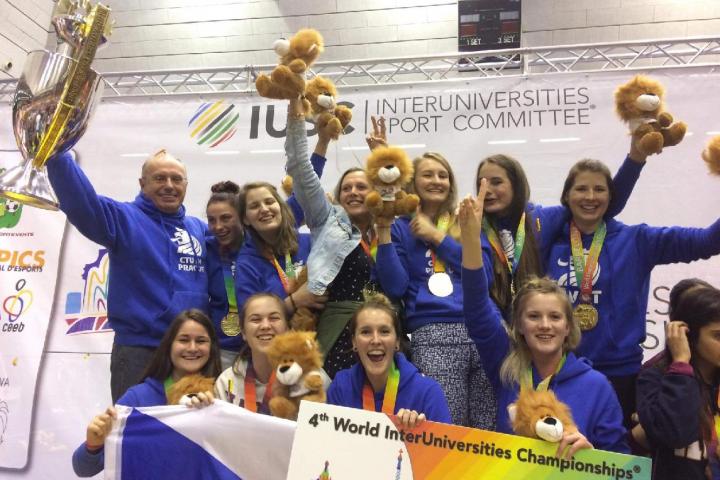 In the penultimate weekend of November, the CTU's sports team took part at the IVth World Interuniversity Games held in Barcelona. The opportunity to represent our university in strong competition from 3 continents, 30 countries, 76 universities and about 2,500 athletes has been revarded to 67 of our students, members of 7 sports teams. The most striking success has been achieved by our women's basketball players who have won the first price in this important world competition. In their group, consisting of strong teams, they had defeated the Economics University of Bratislava 26:14, the Paris IESEG 29:5, the St. Petersburg Mining State University 29:10, and had lost to Cairo American University 29:32. In the quarterfinals, they had dealt with the Polytechnic University Bucharest 23:7, with the Comenius University Bratislava 23: 11 in the semifinals and then defeated the Egyptian Arab Academy AASTMT 28: 14 in the finals.
Under the direction of the coach Dr.Antonin Ludvík, the gold medals for CTU were brought by: Barbora Hlaváčková, Veronika Pešková, Michaela Šillarová, Linda Svobodová, Vanda Kaminská, Denisa Jalamudisová, Karolina Žampová, Šárka Jozová, Anna Karbanová and Lucie Műlfeitová.
The tennis players Tomáš Blažek, Michal Hartmann, Josef Wuddy, Sára Bursová and Daniela Říčanová won bronze medals. The Blažek and Bursova pair had won the mixed doubles competition and the pair Hartmann, Říčanová had won the third place. In the individual competitions, Sára Bursova had been most successful as she finished in the quarterfinals. Our other teams had not been so successful, even though they have all advanced from their groups. Volleyball players, basketball players and women's indoor footbalist stayed at the gates to the semifinals, while the men´s indoor footbalists stopped at the gates to the quarterfinals (there were 36 teams in total competing in their group).