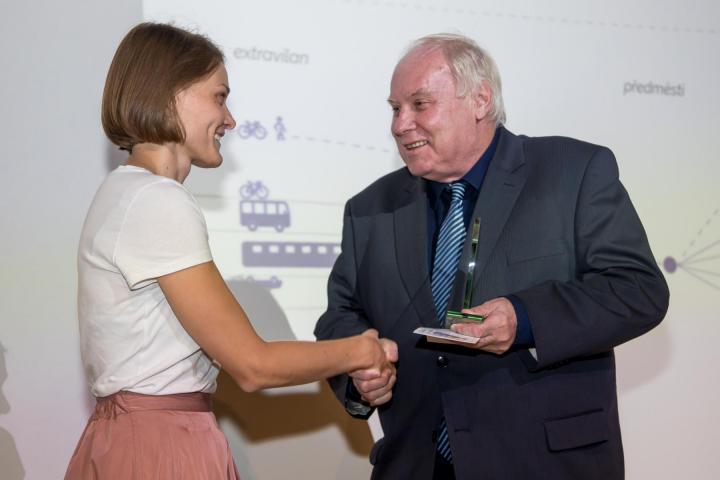 The best work of the jubilee 10th annual competition for students and architects up to 33 years of age was awarded at the Center for Architecture and Urban Planning (CAMP). Out of a total of 49 entries on Architectural Works topic, which initiate social life and development of the site, the jury sent twelve articles to the final round. The award ceremony took place with the participation of the CTU Rector, doc. Vojtěch Petráček.
Martin Petřík from Faculty of Architecture won the Josef Hlávka Award for architecture with his project Slovan student dormitory. The House as the initiator of real changes in the tourist and traffic-burdened central part of the city. The thickening and revitalization of the center of Prague, thanks to the reconstruction of the parking lot and the student house, is exemplary and inspiring, including the cultivation of adjacent areas. The project builds on the brave bridging of the Prague Stock Exchange by Karel Prager and activates the given part of the city by the contemporary means and thus fulfills the award of the competition. The track tower raises questions here and should expect a deeper reflection over the possibility of high-rise buildings in the very center of the metropolis. Contemporary mundane architecture would help the city recover from lethargy and provide the necessary energy. Working with the existing garage (using existing buildings more than cutting them off) is meaningful and exemplary, the openness of the house to the surrounding area acts as an initiator of public life. The proposed ramp becomes a public space that revives the devastated place.
The CTU Rector award for the best school work was taken by Jiří Neuvirt from the Faculty of Architecture for his architectural study of Františkovy Lázně - Lázeňské square. This is a delicate and sensitive work with the context of spa architecture. The obvious addition of the volumes of buildings, colonnades and alleyways is a contemporary solution that naturally complements the selected part of the city. It revives and cultivates public spaces and encourages social life amidst existing and completed buildings, in colonnades, between houses and between trees, outdoors.
The prize of the magazine Modern Town for the City Paths - Tábor project was received by Ing. arch. Karolína Koubová also from the Faculty of Architecture. Her project was acknowledged by the jury as carefully prepared and thoughtful, which reflects the thoughtful cultivation of public spaces, promotes pedestrian transport and cycling.
The prize of the public was awarded to Ing. arch. Kristýna Blažíčková from the Faculty of Architecture for her project `House at the end of the road'.