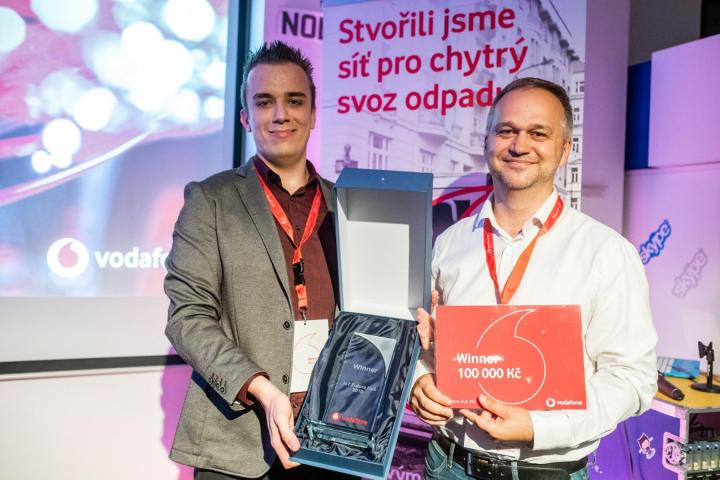 Two years ago, Marek Novák's team from the Faculty of Electrical Engineering developed a blood glucose measurement device - an XGLU meter. With this device, graduates of the Faculty of Electrical Engineering have already won a number of competitions, including the prestigious Microsoft Imagine Cup. In September, the XGLU won the IoT Future Hub contest organized by Vodafone, and in early October, Ing. Marek Novák ranked second in the Czech Inventor survey.
In the contest part of the IoT Future Hub Accelerator, to which nearly 100 startups from all over Europe joined, the jury consisting of representatives of Vodafone and the J & T Ventures Fund decided that the best European project using the Internet of Things is the Czech glucometer for diabetes, XGLU. In addition to financial prizes worth CZK 100,000 and the raised awareness of investors, the XGLU will have chance for further development and cooperation with Vodafone.
On 1 October, the results of the Czech Inventor poll were announced at the International Engineering Fair in Brno. The Renishaw educational project mapped leaders of Czech and Slovak technology. The Czech public considers Antonín Holý (1936 - 2012) to be its best inventor, being  chemist with worldwide influence, who has synthesized more than thousand compounds during his lifetime, including medications in the area of AIDS and hepatitis B treatment. The second place took the developer of medical technology Mark Novák with his project of the XGLU miniature meter. The Trinity is complemented by the inventor of soft contact lenses, Otto Wichterle.
The ranking was decided by more than 140,000 Internet users, who were impressed by an intensive educational campaign on the facebook page during August and September 2018.
The XGLU Glucometer has a size of a credit card. It sends the measured data to a cloud storage and thus the blood sugar level can be checked on a smartphone not only by diabetics themselves, but also by their relatives, parents or carers.
Photograph:  Vodafone