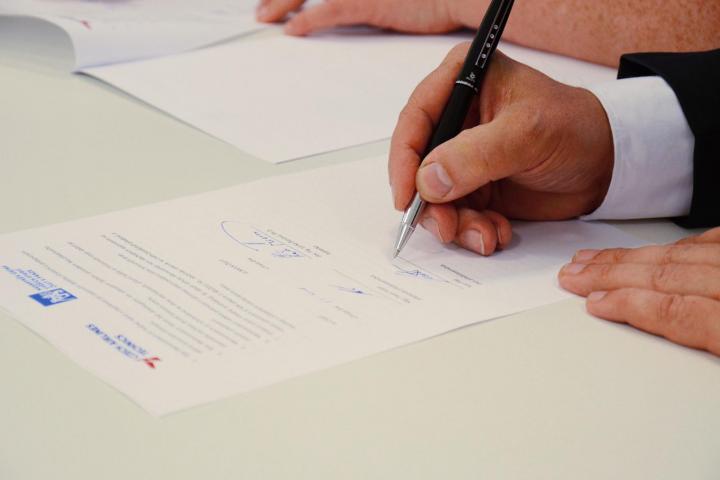 Masaryk Institute of Advanced Studies and Czech Airlines Technics (CSAT), a subsidiary of Czech Aeroholding providing maintenance and repairs of aircraft, signed a Memorandum of Cooperation on Lean Management and other projects on 2 May, through which they will exchange information important for both business development and education. Students will acquire theoretical and practical knowledge through partnerships directly from the company's operations.
Joint projects will deal with specific processes during aircraft maintenance, for example by increasing aircraft maintenance capacity in current facilities, as well as by reviewing storage facilities or supporting administrative processes. The main objective is to map and analyze the current situation and to propose solutions that would improve the use of resources and eliminate inefficient activities.
The conclusion of the Memorandum builds on the cooperation that had arisen since 2017 and involved 14 students. Students can now actually use the knowledge gained during the course of study directly in operation in the presence of the CSAT mentor, which will be available to students and will provide them with practical information. This is an innovative way of teaching the whole subject directly in the hangar.
On the basis of a memorandum, the students will also prepare seminary, bachelor and also diploma theses related to Lean management and processes inside Czech Airlines Technics.
The Memorandum, which was concluded for three years with the possibility of extension for the next period, was signed by CSAT Chairman Pavel Haleš, Member of the Board of Directors Ivan Pikl and Lenka Švecová, Masaryk Institute of Advanced Studies in Prague. Czech Airlines Technics has already signed a Memorandum of Cooperation with the Faculty of Transportation Technology of the Czech Technical University in Prague in December last year. The company cooperates with CTU on a number of projects and regularly participates in conferences and various events for students. The company has also an exclusive partnership with the Civil Aviation School in Prague and cooperates with other professional secondary schools.
$i