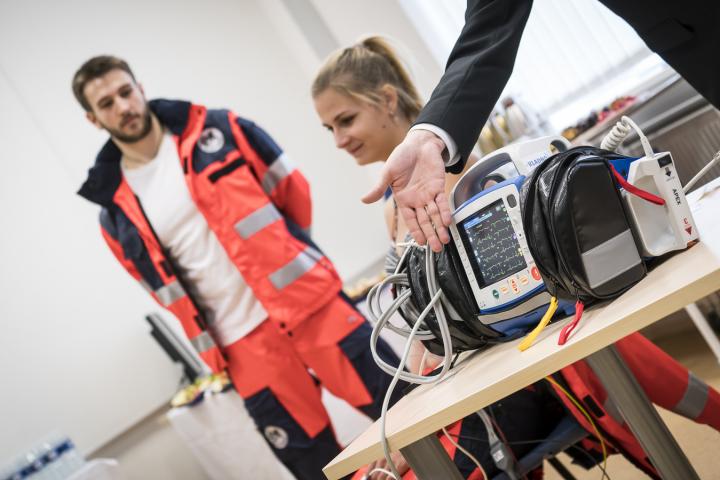 On Wednesday, 29 November, the Faculty of Biomedical Engineering of the Czech Technical University, with the participation of representatives of the Central Bohemian Region administrative area, was ceremonially handed a monitoring unit with a ZOLL X-series defibrillator, acquired from a special subsidy from the Statutory City of Kladno. The ZOLL X series vital signs monitor helps to address all present needs of health rescuers in providing pre-hospital and hospital emergency care and has an irreplaceable place to teach and prepare students for this profession.
The unique device ranks among the top technology on the market. The vital signs monitor allows for standard ECG monitoring, pulse oximetry, NIBP, CO2 to use the most up-to-date and most accurate sensors on the market, and innovative approaches, such as measuring noninvasive pressures.
Exact identification of vital values is, of course, the basic examination of the patient even in the simulated exit during the teaching of faculty students. Here, the CPR Dashboard ™ system is used to provide numerical data on the depth and frequency of compression to real-time students and teachers, and measures the duration of cardiopulmonary resuscitation (CPR) with automatic switching to non-compression time. It includes a compression release indicator and power pointer that help maximize CPR efficiency, especially in teaching in the field where cardiopulmonary resuscitation is alpha and omega. The ZOLL X series also has a unique See-Thru CPR® technology that helps minimize CPR delays by filtering artifacts, allowing you to see organized basic rhythms throughout the CPR.
The X series is the first defibrillation monitor with integrated WiFi, Bluetooth® and USB connectivity. The X-Series devices are developed for use in conjunction with the new RescueNef® Link EMS software communication system, which enables the patient's resuscitation records to be automatically uploaded and replayed by the teacher and then analyzed with students how effective they performed.