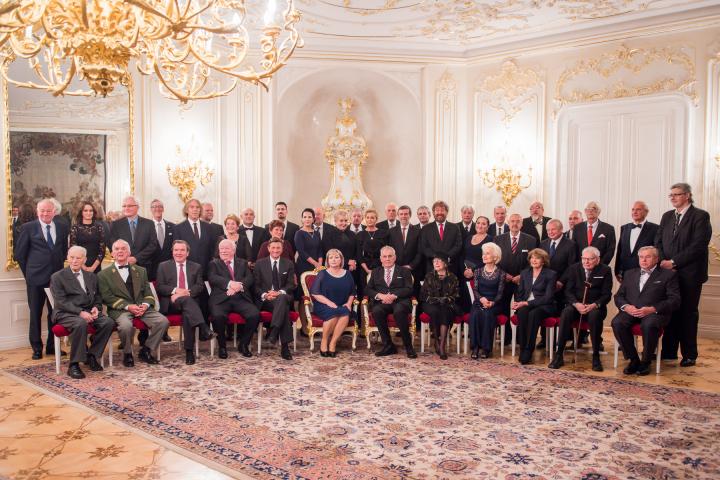 On the occasion of the national holiday of the Czechoslovak Republic independence day on 28 October, president Miloš Zeman decorated 39 notable personalities wit h state awards. Prof. Vladimír Mařík, founder and director of the Czech Institute of Computer Science, Robotics and Cybernetics, and prof. Jaroslav Pollert, Head of the Water Management Experimental Center, Faculty of Civil Engineering, were also among them. Both were awarded the Medal of Merit I. class in Science.
Prof. Vladimír Mařík graduated from the Faculty of Electrical Engineering and was appointed Professor in 1990. He is a co-author of several US patents and an honorary member of the Austrian Society for Artificial Intelligence, and had also been a member of the Czech Government Council for Research, Development and Innovation. Nowadays he leads the newly established Czech Institute of Informatics, Robotics and Cybernetics.
Prof. Jaroslav Pollert is a leading specialist in the field of hydrodynamics of dispersive systems with applications for medical engineering. In 1998 he founded a Laboratory of Ecological Risks of Urban Drainage at the Faculty of Civil Engineering. His interests include sports. As the former triple world champion in water slalom, chairman of the Czech Canoe Association and a member of the Executive Czech Olympic Committee, he could use his theoretical and practical knowledge of hydraulics in designing artificial water slalom tracks in the Czech Republic and around the world. Under his leadership, he and his son designed the water slalom track at the Olympic Games in Rio de Janiero and are currently preparing a another one for the next Olympic Games in 2020. Currently, the Water Management Experimental Center operates at Faculty of Civil Engineering.
Czech Television, iDnes.cz, Seznam.cz, lidovky.cz and other media informed about the event.
Sources: Fotoarchiv KPR, Photo Hana Brožková