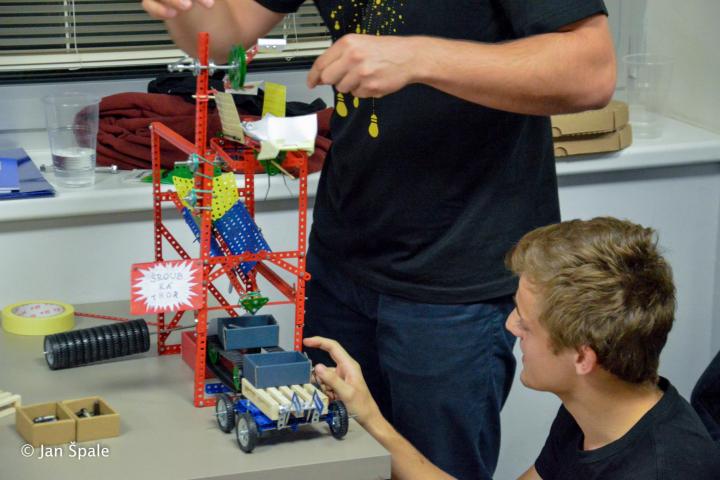 Every year, the EBEC Technical Competition is hosted by the BEST international student club (Board of European Students of Technology). At its recent instance, CTU students managed to get the international round, where they have won in one of the subcategories, competing with 120 students from all over Europe.
Students from the Faculty of Mechanical Engineering Michal Aschermann, Petr Bedřich, Martin Brada and Michal Haubner, substituted in the international round by Kristýna Trpkošová, a student of the Faculty of Architecture, joined the Prague round of the competition and their task was to set up a practical and functional machine following the instructions by Kamax company. In the local round, the machine was a screw compactor built from the Merkur construction kit. The international round, held this year at the Technical University in Brno, brought more tasks and was more challenging. During the week, for example, contestants had to design a robotic vehicle according to the Škoda Auto instructions or had to build a prototype of real car roof carrier using a 3D printer and test its 3D model in the Fusion software. Namely the second task, commissioned by Valeo, was best coped with by students from CTU.
Every year, the EBEC technical competition allows students to prove their technical and presentation skills in a playful way, the ability to analyze the problem, work in a team and under time pressure. Participation in the following rounds brings valuable international experience. The next local round of the competition is open for registration until end of October.