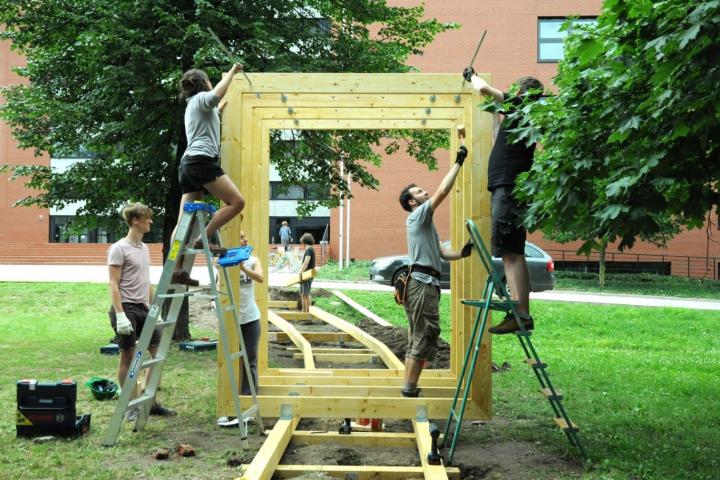 On 18 July, the students and teachers of the Faculty of Architecture presented an installation at Indira Gandhi's Park, improving the Dejvice university campus. The wooden passage is placed at the site of the original spontaneous path on the lawn connecting the National Technical Library to the Faculty of Architecture. The structure was created during the summer hand-made workshop, organized at the MaMa architectural studio directed by Josef Mádr and Šárka Malošíková at the Faculty of Architecture of CTU on 10 - 14 July.
The new passage clearly defines a path and gives the pedestrians direction, looking at the park, but preserving its permeability while it does not represent an optical barrier. The result of the project, which was attended by 17 students, is 46 wooden frames, anchored in the ground, reinforced with plywood boards and connected by threaded rods forming a tunnel-like bridge.
The main partners of the event were the Prague 6 municipality and the Capital City of Prague. In 2015, these institutions signed a joint memorandum with CTU and other educational organizations based at Dejvice  to make the campus of Dejvice more attractive. To date, implementation of the Memorandum has been implemented on the level of jointly organized events and the preparation of a  project that will improve public space at the campus. The installation was established with the support of Robert Bosch prni odbytova s.r.o. sales company, TOGERI s.r.o., BAYO.S and KONDOR, s.r.o.