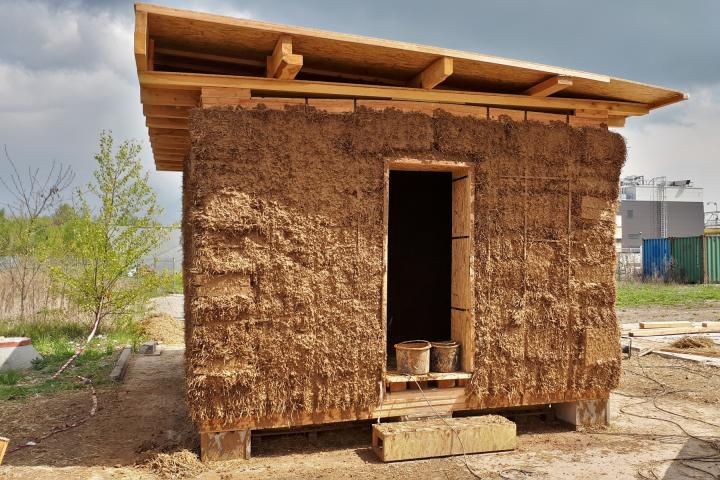 Students of the Faculty of Civil Engineering built a unique straw house with the support of a grant and a sponsor's help at the premises of the CTU University Center of Energy-Efficient Buildings in Buštěhrad. In practice, it will allow them to study the design and construction of the hay-based house, heat-humidity status of straw walls, the performance of clay plasters, defects caused by deficiencies in the design or execution of the building. They will also observe the fire characteristics of the straw construction and its fire behavior. The result of experimental research will be a number of diploma theses and the gain of valuable information, which can make a significant contribution to improving knowledge about the construction of environmentally friendly building materials and products in practice.
The construction of a 6 by 4 meter floor plan began to grow beginning of March and students plan its completion in June. The result of the work will not be a residential house, but an object that serves for research. The construction is attended by students from the departments of Building structures, Technology of buildings and Steel and wooden structures.
The first researches were started by the students during the construction phase, others will follow after it is completed, the building will be destroyed scientifically. One of the objectives of the project is to determine the fire characteristics of used building materials and the behavior of structures in a fire in the form of a large-scale fire test scheduled for September this year. At that time, firewood will be placed in the building as a fire source whose thermal output will correspond to the fire load in residential buildings. Temperatures in the structures and the surroundings of the object will be monitored by a special measuring technique, the behavior of the structure will also be monitored by means of a thermal camera.
The final work of the students will bring real numbers and facts as the result of the whole project and its destruction will be acquisition of a wide range of information which in practice will significantly contribute to the knowledge of this type of construction and the use of environmentally friendly materials.