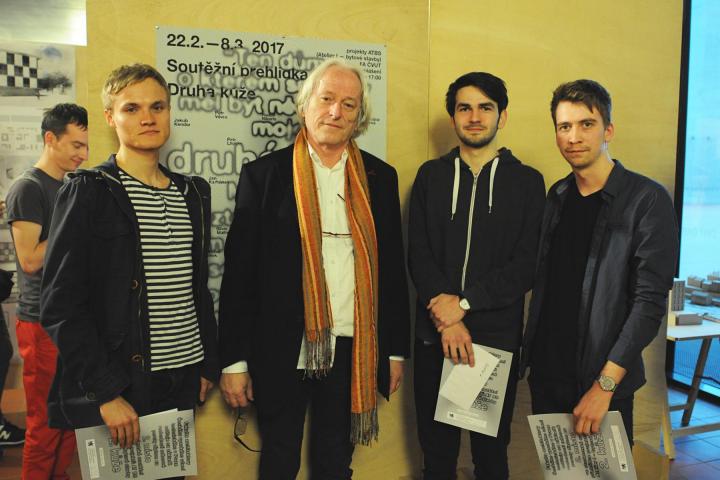 Petr Lhoťan, a second-year student of the CTU Faculty of Architecture, have won the student competitive exhibition Druhá kůže (Second Skin) with his project on the completion of a block in Karlin borough. The project was desinged in design studio of prof. Lábus, dean of the faculty.
Already for six years at the Faculty of Architecture, Druhá kůže (Second Skin) exhibition of student works monitors quality of design projects and opens debates on the methodology of residential buildings design. The subject of the exhibition are projects that the students worked on usually while in the second year of the apartment buildings design studio. 26 projects from 12 design studios were nominated in the competition this year. The expert jury agreed on the three winning projects which it considers to be more or less equal. To comply with competition rules, after a discussion, the jury decided  to choose one winner and two designs ranked in second place, while the third place was not awarded. The jury highlighted all awarded projects for their handling of a challenging relationship with the context of the surrounding environment.
The winning design proposes a multifunctional building of two-storey underground garage with access from the Pernerova street. The building is divided into three masses that respect the existing urban block and is adjacent to the blind facades of neighboring houses. The ground floor of the complex holds commercial space accessible from the Thámova street and from the building's courtyard, while the entire second floor is reserved for office facilities. The remaining four floors are residential. A green rooftop terrace can be found on the third floor, common for three apartments. Each residential floor contains several types of apartments and thus prevents social segregation.
Results of the competitive exhibition Druhá kůže 2016/17:
1. place: Petr Lhoťan (Ateliér Lábus – Šrámek)
Completion of Karlin borough block
2. place: Vojtěch Bodlák (Ateliér Mádr – Malošíková)
U koleji block gap, Kolin
2. place: Rudolf Nikerle (Ateliér Zavřel – Ščudla)
Rotterdam Noord
Documentation of the awarded design projects can be found here.