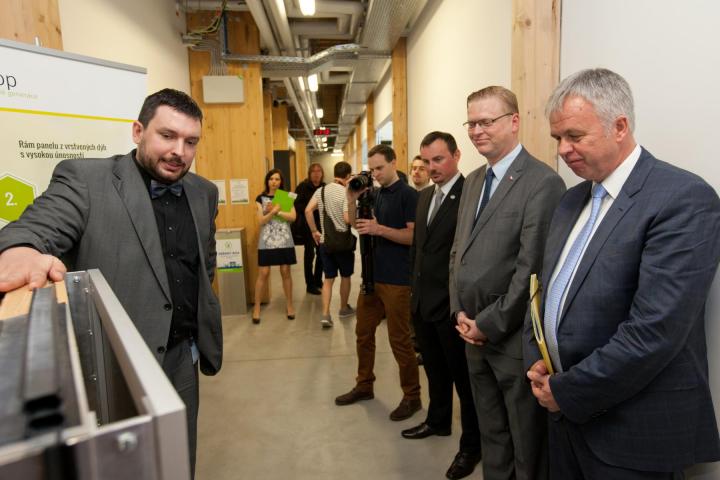 The CTU University Centre of Energy-Efficient Buildings christened the first prototype of the WAVE micro-powerplant on 1June. These household powerplants will offer cheap electricity generated from biomass. Christening of the equipment, awarded with the best idea prize in the Ecological Oscar competition in 2015, was also attended by the Deputy Prime Minister Pavel Bělobrádek. The prototype development has been long supported by the E.ON power company.
After its introduction on the market, the WAVE micro-power plant will serve as a source of energy for residential buildings and small local heat plants. The equipment is based on technology developed at the CTU University Centre of Energy-Efficient Buildings and works on the so-called organic Rankine cycle (ORC) principle. It is fueled by biomass, particularly wood chips. First pilot installations are being currently prepared. Tests of the micro-powerplant will take place at the Tepelné Hospodářství heating company of Trhové Sviny town.
The prototype, which is in the testing phase and preparation for commercialization, will continue to be improved throughout this year. The aim is to streamline the device so that it is not only affordable, but also simple to control. The former boiler room of an apartment building can use the generated electricity for its own consumption or to sell it to the public electrical power grid. The device can be equipped with technology for so-called island operation, ie for use in areas without connection to the grid. This type of device can also become a very good technologycal foundation for the expansion of Smart grids, the power transmission grid and communication network allowing regulation of consumption and on-demand energy production in real time.
The godfathers of the first WAVE prototype became Pavel Bělobrádek, Deputy Prime Minister for Science, Research and Innovation, and Michael Fehn, Chairman of the Board of Directors of E.ON Czech Holding AG.

The servers Novinky.cz, Blesk.cz a Český rozhlas had also informed about the WAVE micro-power plant.