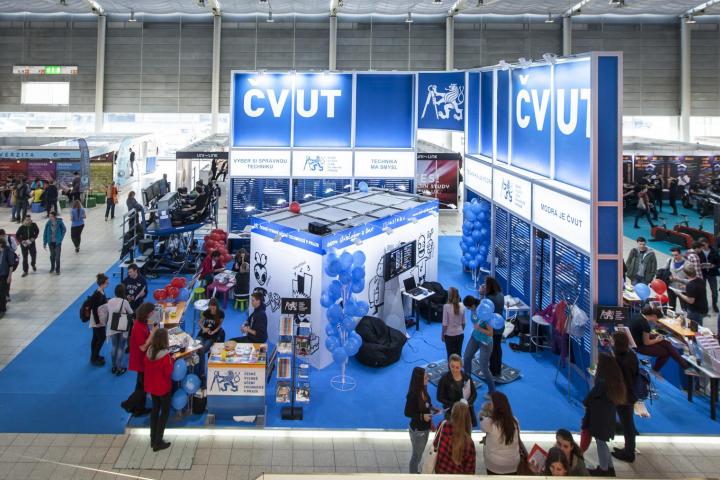 CTU has been presented at the 22th annual European fair of education and lifelong learning Gaudeamus Brno 2015 from 3 to 6 November. Its interactive exhibition attracted not only visitors, but also the professional jury, which rewarded the exhibit booth with 1st place in the competition for the best stand at the fair.
The jury, comprised mostly of high school students, evaluated how and in what way the exhibits provided information about study option and also how engaging and interactive the stands were. Czech Technical University in Prague acquires the awards for best exposition since 2010.

At the interactive exhibition, visitors and prospective students had a chance to learn all about the admission procedures, study programs offered at the faculties of CTU. They also had the opportunity to meet with students and some teachers who gladly shared practical information and their experiences. Candidates thus learned important information about the study, possibilities to travel abroad on fellowships and internships or interesting projects running at CTU. The dean of the Faculty of Mechanical Engineering prof. Michael Valasek came to the fair for high school students as well. In addition to its eye-catching lecture, he also dedicated his time to prospective students.

Visitors of the interactive stand had a chance to compete with Lego robots, test the Face Detection application and have a flight on a flight simulator brought from the Faculty of Electrical Engineering.
The Gaudeamus fair is the most important source of information about study opportunities that are not restricted to those after high school graduation. High attendance confirmed interest in the event as it was visited by 28,000 participants. Public will have another opportunity to become familiar with the offer of post-secondary education will be from 26 to 27 January 2016 at the Exhibition EXPO PVA Letňany in Prague.