Three faculties of Czech Technical University - Faculty of Civil Engineering, Faculty of Mechanical Engineering and Faculty of Electrical Engineering - participate in the three-year professionally oriented Bachelor's degree programme in Scenic Technologies, which applicants can enrol in at Faculty of Civil Engineering. Cooperation has also been established with the National Theatre, Czech Television and Barrandov Studios, where students of the programme will have professional practice as part of their education. The first students will be able to take a seat in the lecture halls already this September.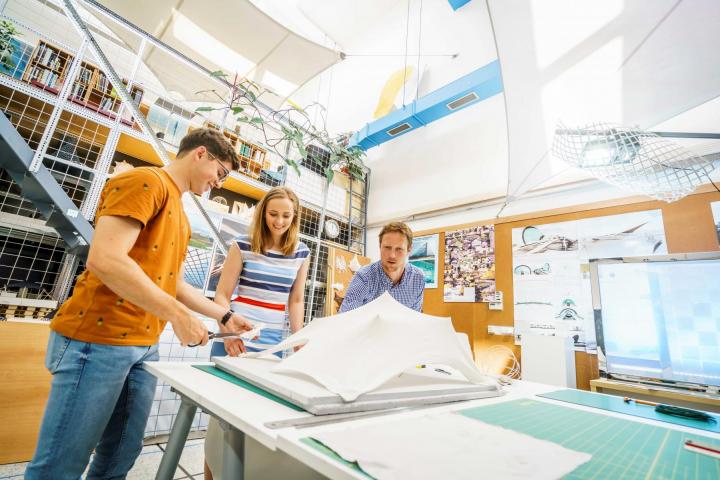 Graduates of the programme will gain knowledge of contemporary multimedia technologies in relation to their further application in the field of artistic creation, sound and lighting design, especially in stage, television and film operations. Emphasis is placed on theoretical and practical knowledge of the technologies, principles and practices used today. The programme will also be complemented by knowledge of artistic creative production and aesthetics and practical courses in sound and lighting design. Students will also study the management of multimedia projects covering issues of project financing, communication and management of related processes.
"The initiative to create the Stage Technology study programme came from National Theatre in Prague and Theatre Faculty of the Academy of Performing Arts in Prague. These institutions approached Czech Technical University in Prague bringing forward the fact that they lack such an oriented study in the portfolio of universities in the Czech Republic, but especially themselves lack it in the daily provision of their productions," says doc. Jaroslav Daďa from Faculty of Civil Engineering, who is the supervisor of the whole programme.
As doc. Jaroslav Daďa explains, it is a reaction to the situation when the traditional professions in the field of stage construction, sound and light design in theatres, as well as in the television and film industry, do not have specialized training, while at the same time new technologies are developing very dynamically and cultural institutions are looking for specialized multimedia experts.
Ing. Pavel Hénik, Head of Stage Operations at Czech Television, confirms this: "To manage the artistic and technical operations of television and theatre, we need experts who can combine knowledge of civil engineering, electrical engineering, mechanical engineering and stage design. It is essential that these executives are able to lead a team of specialists, while at the same time designing effective technical solutions that meet the artistic expectations of the creators."
Administrative Director of the National Theatre Ing. Jana Dvořáková, Ph.D., MBA, adds: "The standards for the work of the specialised components of stage operations, which work closely with artistic teams on the overall look of theatre productions, are moving forward dynamically with the current technological developments. Without systematically trained and educated stage technology professionals, we will not be able to provide the requirements of theatre production in a sufficiently professional manner in the future. That is why my colleagues and I have been working to create a new degree programme."
Faculty of Civil Engineering will host most of the teaching. "Here, students will acquire the basics of drawing and graphic presentation, become familiar with the compositional principles of building scenic space and master the necessary computer programs for imaging, both in 2D and 3D. They will also study civil engineering, which is also necessary in this field," explains doc. Jaroslav Daďa.
At Faculty of Electrical Engineering, teaching will take place in the Audiovisual Production Studio. Doc. Stanislav Vítek says: "For example, students will learn how to light, sound and shoot a scene, but programming will also be part of the teaching, they will learn about modern programs for sound and video editing, post-production and many other things they will need for their future employment."
Teaching at Faculty of Mechanical Engineering will help with orientation in engineering, understanding of scenic constructions or the use of 3D printing and its possibilities. "Here, we will focus on materials, structures, production technologies, hydro or thermomechanics so that the resulting work meets the requirements of the author, writer and director, while performing the required functions safely and reliably and being well produced at a reasonable cost," explains doc. Ladislav Kolařík.
Experts from other institutions, such as National Theatre, will also participate in teaching externally; cooperation with a number of acclaimed personalities from film, television, theatre and other cultural projects has also been arranged.
"Graduates should have a wide range of opportunities for interdisciplinary collaboration. Specifically, they can work, for example, as project managers in development and design teams, design and management staff, stage managers of theatre, television or film studios, multimedia project managers, creators of audiovisual works, heads of lighting, sound or video technology departments in theatre, studio production coordinators, designers of scenic and presentation technology, designers of audiovisual presentation systems and in many other professions. We therefore believe that this new study programme will be in demand among applicants," says Prof. Zuzana Pešková, Vice-Dean for Teaching at Faculty of Civil Engineering. Following the bachelor's degree programme, a master's degree programme is planned, so its graduates could obtain the degree of Ing.
Details about the Bachelor's Degree Programme in Scenic Technology and the admission procedure can be found here: https://www.fsv.cvut.cz/uchazeci/bakalarske-studium/scenicke-technologie/. The application deadline is 31 March 2023.
Contact person:
E-mail:
lidmila.kabrtova@fsv.cvut.cz