The Faculty of Biomedical Engineering (FBMI) has had a number of exceptional graduates in its 17-year history who have achieved significant success in their professional lives, engaged as volunteers or positively influenced public life. This was one of the reasons for the announcement of the CTU FBMI Alumni Awards under the auspices of its Dean, Prof. MUDr. Jozef Rosina, Ph.D., MBA.
From the very high quality nominations, the committee, consisting of FBMI teachers, students and external experts, selected the first ever awarded graduates: Ing. Markéta Icha Kubánková, Ph.D., and Jan Rieger, M.Sc. The awards were presented to the personalities at a ceremony in Bethlehem Chapel on 20 October, 2022 on the occasion of the graduation ceremony of the follow-up Master's degree program in Biomedical Engineering.
Markéta Icha Kubánková received both her bachelor's and engineering degrees from FBMI. After graduating with a red diploma in 2013, she was awarded the President's Scholarship of Imperial College London, which is consistently ranked among the top 10 universities in the world. The university awards this prestigious scholarship to 50 exceptionally talented students from around the world. Her PhD thesis focused on the use of molecular rotors as novel types of probes for protein aggregation. She developed new optical techniques for monitoring protein aggregation, a process associated with neurodegenerative disorders, among others. In addition to science, she has been involved in teaching, mentoring students, and outreach activities. After defending her PhD thesis, she was awarded an EPSRC Doctoral Prize Fellowship in 2017, designed to support the early careers of top graduates. Since 2018, she has been working as a postdoctoral researcher at the Max Planck Institute in Erlangen, Germany, where she develops methods for measuring and analyzing the physical and mechanical properties of cells. These methods have the potential to enable faster detection of the early stages of many diseases. In addition to excellent scientific work and publications in prestigious journals, she has long been involved in volunteer activities that have a high societal impact. He organizes educational events for high school and college students and popularizes science. She is a member of the Advisory Board of the Senate Standing Committee on Compatriots Living Abroad. She is a co-founder of the association u Czexpats in Science, which connects Czech scientists abroad with each other and with scientists and scientific institutions in the Czech Republic. She has been in contact with FBMI for a long time and still cooperates with it.
Ing. Markéta Icha Kubánková, Ph.D., on receiving the award said: "I appreciate the Alumni Awards very much, FBMI has been a crucial link in my life journey and I am pleased that they think of their alumni in this way. Apart from the professional side, FBMI has enriched me humanly, I have made lifelong friends and, among other things, founded the organization Czexpats in Science together with my faculty colleagues. I thank everyone at FBMI who invested time and energy in my education ten years ago, and I wish the faculty to continue to thrive."
The award also goes to Jan Rieger, M.Sc., who graduated with a Bachelor's degree from FBMI in 2008. He was already known for his talent and high motivation during his studies at FBMI. Subsequently, he was one of 20 students selected from all over the world for the Master's degree programme in Biomedical Engineering at RWTH in Aachen, Germany. After graduation, he worked for three years as a researcher at the Max Delbrück Center for Molecular Medicine in Berlin (part of the Helmholtz Association).
During his time at the Max Delbrück Center for Molecular Medicine and the company he co-founded, MRI.TOOLS, he developed innovative coils for magnetic resonance imaging. He remained in contact with FBMI and initiated an international project to support students. In addition, he created a tutorial for FBMI on the design and implementation of MRI coils. He has been developing products at Somatex Medical Technology for the diagnosis and therapy of breast cancer and for prenatal therapy of fetuses with urinary tract damage since 2016. He has also managed to develop a unique method of navigation during breast cancer surgery. Based on this method, a technology start-up was created, where he has been the technical director since 2021. Jan is the author of a number of highly cited scientific publications and several patents.
Jan Rieger shows what a talented biomedical engineer can achieve within a decade of graduation: two new technology companies, a series of inventions and technological innovations that help doctors and patients every day.
"I didn't expect to be a holder of Alumni Awards and I appreciate it all the more. During our studies at FBMI, as students we had the opportunity to actively participate in the development of the faculty - the faculty club BION, student positions on projects, laboratories, etc. So after graduating from FBMI, it was a matter of course for me to continue to develop the faculty and its students within my professional capabilities. The number of FBMI students who have found employment in various positions in the Czech Republic and abroad testifies to the quality of education at FBMI," said Jan Rieger.
"Our aim is to annually recognize exceptional graduates of the Faculty and to present their professional path after graduation. We are proud to have been at the beginning of the careers of Markéta Icha Kubánková and Jan Rieger. Through their stories we want to motivate our students and spread awareness of such inspiring personalities," adds doc. Ing. Jiří Hozman, Ph.D., Vice Dean for Development and External Relations of FBMI.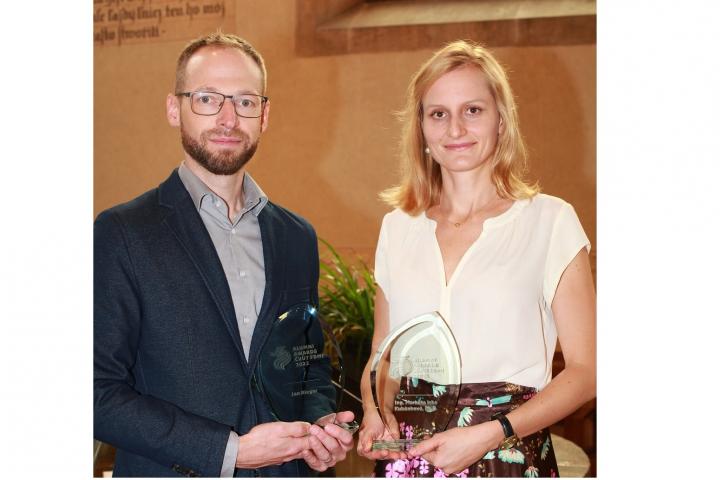 Contact person:
Name:
Doc. Ing. Jiří Hozman, Ph.D.