This year, the Design Sprint Summer School will focus on a much-discussed topic - The city and sustainable development. High school students interested in modern technology will be able to experience how to take their own project from idea to tested prototype in five days. All will be guided by the Design Sprint method, developed by Google. The course will again be organised by the Faculty of Information Technology (FIT) on 25-29 July 2022.
Students will be able to develop their own ideas on how to improve sustainable development in cities using the Design Sprint method over five days. Using ideation techniques, they will design how to meaningfully connect modern technology with sustainable urban development. The Design Sprint is a simple way to see if an idea has a chance of success in five stages (discovering, designing, deciding, prototyping and testing) in a maximum of five days.
"The Design Sprint method works best in teams of 3 to 7 people for efficiency and speed. Each team will have a mentor from among the experts at FIT CTU who will be able to pass on their knowledge or experience and guide them through the entire project process. The students will also be shown how to ideate, prototype and test using technologies such as virtual and augmented reality or visualisation," adds the head of the UsabilityLab at FIT, MSc. Ondřej Brém.
Last year's edition already brought projects by students who proposed improvements to city life using digital technologies. The teams chose projects from 5 areas: education, transport, public space and greenery, social responsibility or leisure. Already during the event, the team developing the educational game got the chance to further develop and implement the project in cooperation with the Dendrological Garden of Průhonice. It is a mobile game application that will help visitors to the garden to learn about the trees growing in the garden in an entertaining way. 
More inof at https://fit.cvut.cz/cs/zivot-na-fit/aktualne/udalosti/17975-letni-skola-design-sprint-2022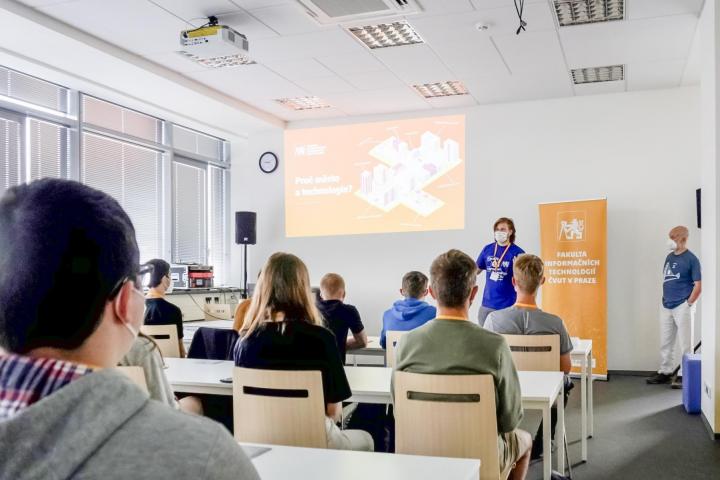 Contact person:
E-mail:
ivana.macnarova@fit.cvut.cz