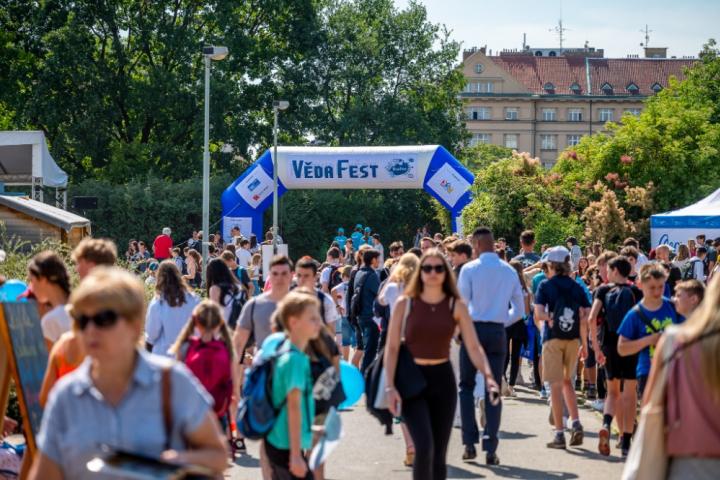 The eleventh edition of ScienceFest themed "Roots of Science" will be held on 21 June, the day of the solstice. The one-day event at the so-called Kulaťák (the Roundabout), the Dejvice's Victory Square, will once again bring together scientific institutions across the country and, as in previous years, show that different ways of presenting science have their irreplaceable importance.
In the last week of the academic year, the largest open-air science laboratory will be set up in Prague's Dejvice district. Every year, a number of universities, academic departments, leisure institutions and companies participate in the preparation of the programme.
"ScienceFest is entering its second decade, which is undoubtedly a testament to its popularity. This year we have prepared surprises and new attractions for all curious visitors and we are glad that many important companies are joining ScienceFest," says the director of the DDM hl. Libor Bezděk.
The aim of this year's event is to show people that science is all around us, we touch it every day, and we use the results of science without being aware of it. To show that science is not only an interesting activity, but above all a useful one. "Visitors come to ScienceFest in thousands every year. I have no doubt that it will become an inspiration for many of them to pursue science themselves," adds the event's patron Václav Pačes.
Vojtěch Petráček, Rector of the co-organizing CTU in Prague, confirms this: "I am convinced that in the ten years of its existence ScienceFest has already managed to bring many interested students to our ranks. And I believe that this year's eleventh edition will again be well attended. On behalf of CTU, I can promise an interesting programme on the stage and at the stands of individual faculties."
PPG, a manufacturer of paints (producing Primalex in the Czech Republic) and the main partner of the festival, will introduce visitors to the secrets of paint creation and mixing. Strabag will show visitors how to work with a virtual excavator, see how flexible printed sensors can detect toxic gases, or learn how not to waste food. At ScienceFest, you can become a researcher, engineer, pilot, soldier, cameraman or doctor and get a glimpse into many fields.
"At PPG, we have enthusiastic chemists and engineers who were intrigued by these fields when they were young, inspired to go on to technical colleges and universities, and have been interested in new discoveries and processes their entire lives. I firmly believe that our partnership with ScienceFest will spark curiosity of even the youngest of our visitors." says Jan Šipan, PPG's Commercial Director for the Czech Republic, Architectural Coatings Division.
Throughout the day, visitors can also enjoy interesting programme on the festival stage, for example with FameLab or the dog heroes, but also a lot of unusual chemistry and technology.
The ScienceFest programme is gradually updated at www.vedafest.cz
ScienceFest is intended for students and pupils of secondary and primary schools and the curious public of all ages.
Admission to the event is FREE
ScienceFest is a joint project of the House of Children and Youth of the Capital City of Prague (DDM hl.m. Prahy). Prague, Institute of Chemical Technology in Prague and Czech Technical University in Prague since 2011. The event is supported by the Prague 6 municipality.