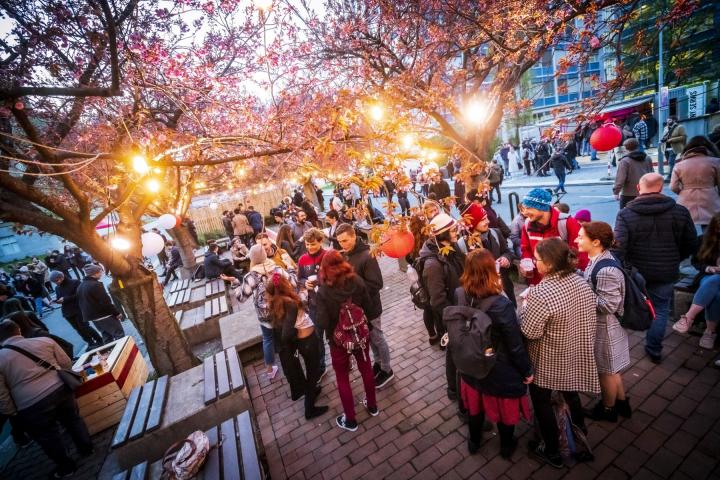 Technická Street will be a lively location from mid April until the end of September, with a rich programme of open-air cultural events, talks and workshops. The Vektor Technická project will offer a pleasant space with a cafe and a bistro that is a natural meeting point where the student campus and the Dejvice city quarter can come together.
Technická Street will this year again be changed from a busy place, where most people are hurrying  to the university and other institutions, into a green oasis where people can take a rest or just enjoy themselves. The Klubovna Cultural Centre and the Vietnamese bistro will stimulate social life  with a broader range of cultural activities and refreshments than last year.
We can look forward to musical and theatrical performances, exhibitions and popular scientific talks and workshops, as well as a programme for children. An innovation for this  year's  Vektor Technická will be lessons in roller dancing, which has become a popular activity. Teachers from the Prague Roller Girls dance group will be taking charge and welcoming newcomers to roller dancing.
The new season begins on April 18th, with the Cross Campus race, in which members of the public can participate, followed by a performance by Dukla band with soloist Bariela. We can go to Technická Street any day, and if the planned programme does not attract us, we can just enjoy sitting under the spectacular sakura cherry blossoms.
Vektor Technická brings together six institutions linked by the Campus Dejvice platform: The Czech Technical University in Prague, the Catholic Theology Faculty of Charles University, the Prague 6 city district, the National Technical Library, the Institute of Organic Chemistry and Biochemistry of the Academy of Sciences of the Czech Republic, and the University of Chemistry and Technology, Prague. The aim is to make the Dejvice area attractive and, in a natural and entertaining way, to bring together student life, scientific life and social life.