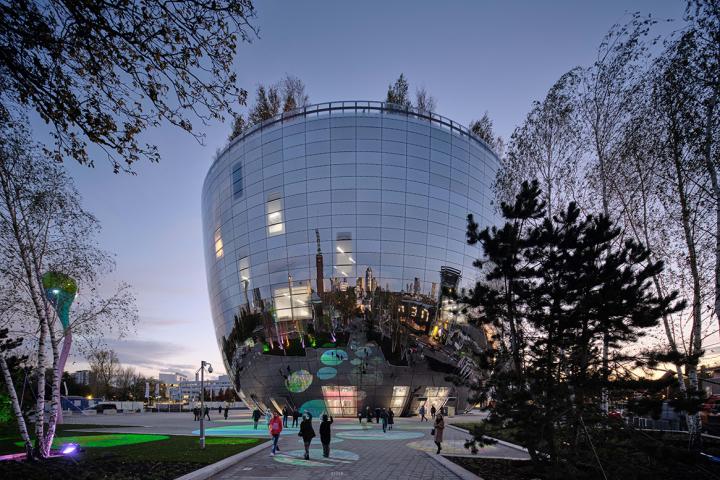 November Talks, the November lectures at Faculty of Architecture of the CTU, will offer a new perspective on the future of cities. The series will be launched on 7 November by Winy Maas, founder of MVRDV and currently a visiting professor at Faculty of Architecture. The lecture series, subtitled FUTURE(S) Time for a Change, will feature four international figures in architecture, urbanism and design who share a visionary and radical approach.
Cities occupy only two percent of the Earth's surface, but consume two-thirds of its energy and produce 70% of global carbon emissions. This puts architects and urban planners on the frontline of the fight against climate change. Dutch architect and Delft University of Technology professor Winy Maas, French urban planner Alice Cabaret, American architect Karen Cook and MIT professor Carlo Ratti, this year's guests of the November Talks series, agree.
The subtitle of the series 'Time for Change' expresses the need to rethink the way society responds to accelerating climate change. "Rather than fighting climate change, we need to be able to adapt to it. This requires a radical change of approach to the design of buildings and entire cities, and architects, urban planners and designers must come up with new ideas and innovations. We want to show this not only to our students," explains Irena Fialová, Vice Dean for International Relations.
The opening lecture 'The Future City: what's next' will focus on future cities. "I am convinced that ideas can have a profound impact on our world. Big dreams, no matter how unattainable they may seem, can have more impact than small, easily achievable goals," says visionary Winy Maas.

Alice Cabaret's speech will focus on the interconnection between urbanism and other disciplines such as neuroscience and pop culture. Her talk 'Future-proofing our cities' will offer new perspectives on urban development.
Can a high-rise building have a positive impact on its surroundings? How does an architect navigate a complex site and guide stakeholders with differing views, in the challenging context of climate change and cost pressures? Karen Cook will answer this with the example of her office building project 'Vertical Village - 22 Bishopsgate' in London.
Carlo Ratti will close the series with the theme 'Senseable Cities'. The Internet enters physical space, the traditional domain of architecture and design, and becomes the "Internet of Things". It opens the way to transform mobility, energy and industry. The talk will address these issues through the MIT Senseable City Laboratory project.
November Talks will be held throughout four Mondays in November, always from 18.00 - 7 November (Winy Maas), 14 November (Alice Cabaret), 21 November (Karen Cook) and 28 November (Carlo Ratti) - in the lecture room 155 Gočár / 105 Kotěra (Winy Maas), Faculty of Architecture CTU, Thákurova 9, Prague 6.
The lectures in English are intended for the general public, admission is free and wheelchair accessible. Winy Maas' lecture will also be streamed on the Faculty's YouTube channel. There will be a welcome drink from 5.30 pm, combined with an informal meeting with the speakers.
The November Talks series has been supported by the Sto Foundation since 2006 and is held at selected European schools of architecture.
Information about the speakers:
Winy Maas
Dutch architect, landscape and urban designer and currently also a visiting professor at the Czech Technical University. Winy Maas co-founded MVRDV, a globally operating architectural practice awarded for its innovative and experimental approach to the architecture of buildings, cities and landscapes. Among his best-known projects are the Dutch pavilion at Expo 2000 in Hannover, Rotterdam's Markthal and the Glass Farm in Schijndel. His portfolio also includes a number of masterplans, including visions for the future of Greater Paris, the Left Bank in Bordeaux and the waterfront in Oslo. He is a professor at TU Delft, where in 2008 he founded The Why Factory, an institute that explores the development of future cities.
Alice Cabaret
French urban planner with international experience in urban transformation. She is the founder of The Street Society, a creative urban agency based in Paris, and co-founder of the [S]CITY initiative, which focuses on exploring the links between neuroscience and urbanism. In her practice, she works on urban projects design, modernization and activation in public space, urban research and curation.
Karen Cook
American architect, graduate of Harvard University Graduate School of Design. 22 Bishopgate in London, Danube House and Nile House in Prague's Karlín, and Tour First in the La Défense district of Paris are among the designs she has been involved. After years of collaboration and partnership in the offices of KPF and PLP, she founded Spice Design studio with Jean Le Lay in 2022.
Carlo Ratti
Architect and engineer, head of the Senseable City Lab at MIT's Digital Lab, focuses on the impact of new technologies on the shape of cities. He is a founding partner of Carlo Ratti Associati, co-author of more than 500 publications, and his work has been exhibited at the Venice Biennale, the Design Museum in Barcelona, and MoMA in New York, among others.