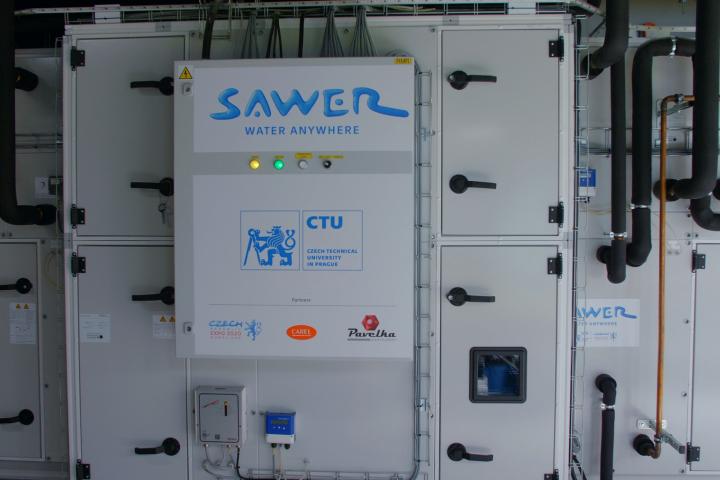 Exceptional feature-length documentary "Let there be water!" traces the creation of a Czech invention that is supposed to provide drinking water in the driest places on the planet and create oases in deserts at almost zero cost. The film, produced by Bio Illusion, will premiere on 23 November 2021 and will be released in Czech cinemas on 25 November 2021.
The documentary about the Czech invention called S.A.W.E.R. (Solar-Air-Water-Earth-Resource) describes the events that influence, change and determine the Czech participation in EXPO 2020. The film about a two-year battle with circumstances presents seven courageous Czech scientists who decided to make a device that can be the only one to extract water from the arid desert air. The research and development of the device was carried out by scientists from the University Centre for Energy Efficient Buildings of the Czech Technical University in Prague and the Institute of Environmental Engineering, Faculty of Mechanical Engineering of the Czech Technical University in Prague.
The film traces the construction of S.A.W.E.R., its testing in the laboratories in Bushrad and later in the desert conditions of the United Arab Emirates. It is set in the wider context of the problem of water scarcity in many areas of the world. The Czech invention extracts water from dry desert air that can be used not only to irrigate plants for food production, but also as drinking water for humans and livestock. The only thing S.A.W.E.R. needs to produce water is solar energy and air.
PROTAGONISTS
Mgr. Jiří František Potužník - General Commissioner of the Czech participation at EXPO 2020 in Dubai
Doc. Ing. Tomáš Matuška, Ph.D.
Assoc. Ing. Vladimír Zmrhal, Ph.D.
Ing. Bořivoj Šourek, Ph.D.
doc. RNDr. Miroslav Vosátka
Ing. arch. Jan Tůma
Ing. arch. MgA. Jindřich Ráftl
CREW
Karel Žalud - director
Prokop Souček - camera
Ivan Horák - sound
The trailer for the film can be found here.
Photo, source: Česká televize