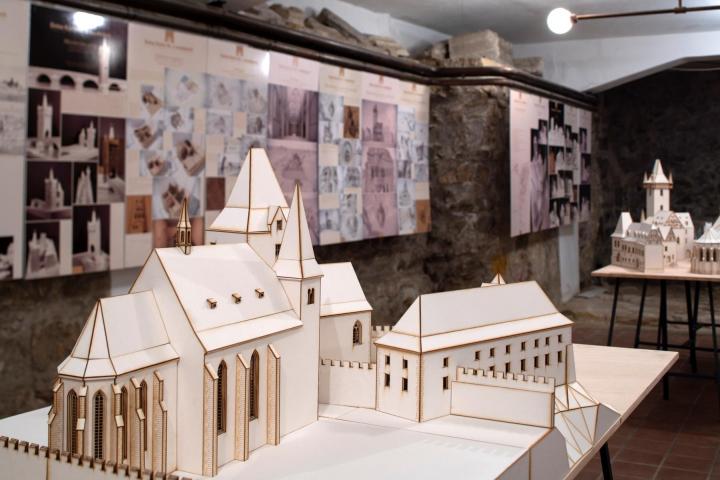 The Faculty of Civil Engineering will unveil a unique exhibition of historical models of Charles IV at the lapidarium of the Bethlehem Chapel on the occasion of the celebration of the Czech State Day on 28 September. Buildings that have never been completed or have long been destroyed are to be presented here as well. For those interested, guided tours are prepared, held at 10.30, 12.30 and 14.30. The entrance to the exhibition will be free on 28 September.
The exhibition is the result of the work of teachers and students of Architecture and Civil Engineering study field at the Faculty of Civil Engineering. It focuses on the historical models of the Charles IV period. The models were created within the optional course Architectural Models.
Visitors to the exhibition will see, for example, the model of the Church of Our Lady of Snow, an attempt for the ideal appearance of the temple if it was completed. There are also Old Town and New Town hall models, both from the period of 1420. Absolutely unique is the model of Hrádek on Zderaz fortress, which disappeared completely along with the Břežská rock during the Prague demolition at the turn of the 19th and 20th centuries. Similarly, there is a model of the no longer existing Chapel of the Body of God at the Cattle Market, which was demolished at the end of the eighteenth century.
The physical models of selected unique buildings, presented in the lapidarium of the Bethlehem Chapel are made of wooden cardboard cut on a laser plotter in scale of 1: 100, while installed panels present many other notable buildings. The panels refer to the permanent exhibition by the Prague City Hall at the House of the Golden Ring - the Prague of Charles IV, showing the medieval town, on which the Faculty of Civil Engineering also cooperated.
Contact person:
Lidmila Kábrtová