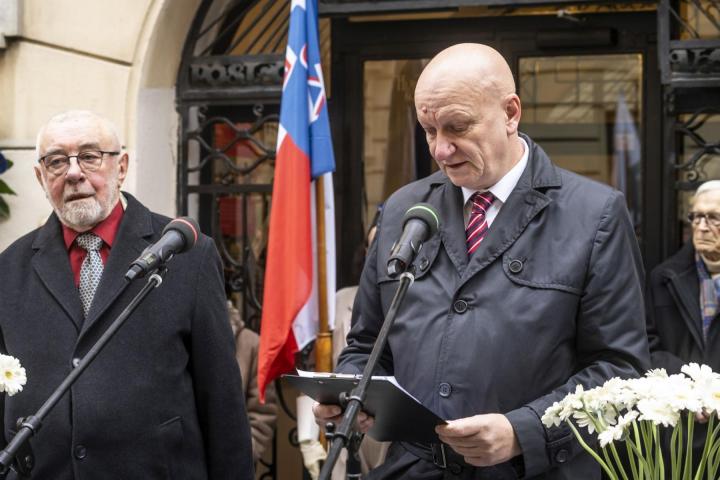 Rector of CTU in Prague doc. Vojtěch Petráček attended a commemorative event at Hlávka dormitory on Thursday 17th November, where he delivered a speech.
Dear Professor, ladies and gentlemen, distinguished guests,
Today is a day of struggle for freedom and democracy. This struggle has brought many victims, including the students we remember today. Lest it be as in Karel Kryl's song about the unknown soldier, where he sings: "Once in a while, the lords stand still and come crying...", let us reflect on what lessons we can draw from today's moment. Independent colleges have been and are able to form an independent view of society's problems and find solutions to them. That is why they have been and continue to be a thorn in the side of undemocratic regimes and populists. It is up to each one of us, members of the academic community, to move in a direction that helps to remove fears and anxieties, to explain problems and to find solutions. It is understandable that in uncertain and difficult times like the ones we are experiencing now, all fears and anxieties weigh on us and weigh us down, but with a rational and humane approach we can dispel them. In doing so, we are consolidating the foundations of the peaceful order of a democratic society and closing the way for those who profit from fear and uncertainty and feed them to create chaos. Autocratic regimes grow out of chaos, frustration and fear, and history and the present show what monstrous proportions they can reach.
Every step that can stop the growth of the breeding ground needed for the emergence of undemocratic regimes must be taken and not be afraid to take it. That is why every thought and action that leads to a rational and humane solution to what ails us is important. If we can do this, if we can talk to each other and understand our different positions without feeling that the other is the enemy, if we are human beings and not machines, if we try to find ways that are best for everyone and not just for a small group or for individuals, we will be moving in a good direction.
Our universities want to contribute to this. With a daily attitude and effort like this, we can best comemorate those of us who have died in the past in the struggle for democracy and freedom. Thank you for your attention.
doc. RNDr. Vojtěch Petráček, CSc. - rector of CTU in Prague